Many of us look forward to the beauty of the holiday season, which heightens our joy and excitement, however, if we aren't excited it can really impact positive emotions.
---
If you want to get the most of the holiday season you may consider learning to control your emotions by observing their effect on you and others.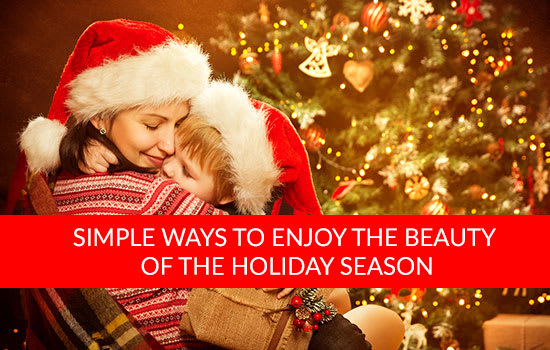 If we can stay focused on the positive aspects of the holiday season, it really makes a difference in our outlook. Emotion is powerful and can quickly influence our mood and those around us. It's important to manage them, especially during the holidays, a time that can be stressful for many.
Prepare for Holiday Emotions in a Positive Way
Over the holidays many of us have several work and family events that can cause us to feel overwhelmed, tired, and irritable, resulting in situations where we aren't functioning at our best.
Knowing this, we need to prepare ourselves psychologically and emotionally. If you find yourself feeling this way, you may want to reflect on your emotional contagion and its potential impact on others.
Don't Forget to Laugh and Smile
When you're in a challenging situation or feeling troubled your negative thoughts can actually inhibit you from making the necessary rational decisions and/or reduce the patience you require to wait it out.
What you need in these moments is a distraction to allow a positive frame of mind to take control or allow time for your rational thoughts to emerge.
A smile will offset a negative emotional state. Laughing and smiling sends signals to your brain that you are happy. Once that occurs the thoughts your mind produces are suddenly positive. Smiling is so powerful it can make you forget what you're upset about. By the time you remember the upsetting situation, your brain has a different point of view towards it.
This can also be very effective when you don't have time to deal with the situation and need to be upbeat and engaging for your next family visit (during the holidays) or meeting if you are at work.
How to Observe the Ripple Effect of our Emotions Throughout the Holidays
To really understand the impact your emotions have on others, you first need practice observing them.
Over the holidays when you're interacting with a group of colleagues, friends, or family members, and you're sharing information using uncontrolled emotions, try exercising the following:
Examine the facial expression and body language of your audience immediately after you finish speaking.
Consider how your emotions affected the individuals around you.
Did others give you eye contact in support of what you were saying, or did they look away during or when you finished speaking?
Write down how your uncontrolled emotions affected those around you.
Consider how you could share the information differently if you had better control of your emotions.
Choose one or two of the people who observed your behaviour and privately ask them how it affected them.
Continue to monitor how your emotions on how they affect others.
Practicing this exercise will help you become more aware of your emotions and emotional contagion. It will help you better observe and manage the ripple effect emotions can have throughout the holidays and into the New Year.
This holiday season I encourage you to learn more about your emotions and how to manage them, as it will strengthen your emotional intelligence and have a positive effect on your life, which is the best gift you could possibly give yourself!
---
More Motivational Reads Here »
---
Are you Emotionally Intelligent?
Sign up for Linda's monthly tips to build your Emotional Intelligence and reduce Emotional Hijacking!