The holiday season is upon us and with that comes a variety of emotions. This time of year can feel very joyous, stressful both financially and emotionally, and for some, sadness. That's why I've outlined how you can control your emotions and hold on to joy.
---
The busyness of the holiday season tends to heighten emotions, so it's important to be self-aware and prepare for challenges, recognizing emotions guide all we do.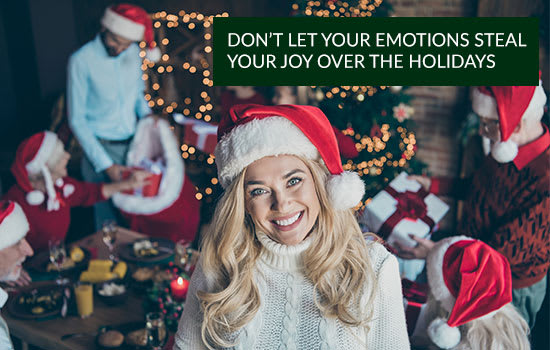 We know we will feel exhausted and irritable at times, which can negatively affect us and our relationships. One of our biggest challenges without a doubt is having the ability to engage our emotions to assist in making rational decisions.
The Holiday Season Can Really Trigger Emotions
When it comes to dealing with every emotion that is involved throughout the holiday season, we must have patience with ourselves. It takes time and effort to learn to effectively read our emotions and understand how they affect our decision making as well as our ability to empathize with others. Managing them comes next which requires considerable skill.
Throughout the holidays, use your emotions to help you avoid emotional hijacks.
What is Emotional Hijacking?
An emotional hijacking is usually triggered by a situation that overwhelms our emotions and then takes control of our behaviour. Typically, it happens so quickly that before we know it, an explosion of overpowering and intense feelings/emotions propel us to impulsively react to the situation without taking the time to calm ourselves and respond rationally.
Simple Steps To Control an Emotional Hijacking This Holiday Season
You can learn to control emotional hijacking - believe it or not, your ability to breathe can save you from an emotional hijacking, as it only takes 10 seconds or less for your brain to regain control of highly charged emotions.

This holiday season if you feel your emotions getting the better of you, be sure to try the following steps to remain calm:
Stop and take a deep breath
Exhale and then start counting:  1, 2, 3…
Keep counting until you reach 10
Remember to breathe deeply while counting
Stop Powerful Emotions From Stealing Your Joy Over the Holidays
Start fresh this holiday season, empower yourself by learning to recognize, understand, and manage your emotions. It's a wise investment of your time and you won't regret the positive benefits.
My hope for you is that you find restful and serene moments to take time to reflect and enjoy the holiday season.
---
More Motivational Reads Here »
---
Are you Emotionally Intelligent?
Sign up for Linda's monthly tips to build your Emotional Intelligence and reduce Emotional Hijacking!