Some believe living mindfully is one of the most important aspects of living a full, meaningful, and joy-filled life.
---
Thich Nhat Hanh says, "The present moment is filled with joy and happiness. If you are attentive, you will see it."
What is Mindfulness?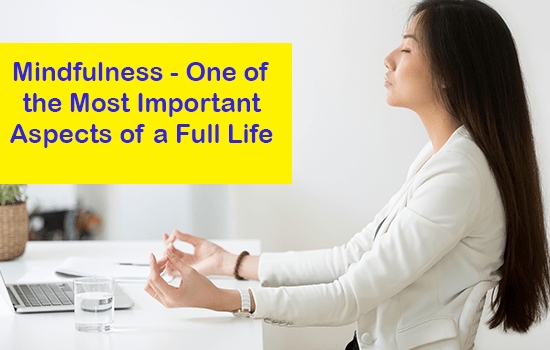 Mindfulness is paying attention or observing and experiencing everything in your life, both good and bad. It is focusing on or noticing your thoughts and emotions, as well as other people and circumstances.

Practising mindfulness can be adopted into every aspect of your life routines, like driving your car or brushing your teeth, interacting with people, and time spent by yourself. It requires focused attention, compassion, and patience.
The Rewards of Regularly Practising Mindfulness
Mindfulness practice is a powerful antidote to a confused, chaotic, distracted, ineffective mind, conflicted relationships, and an unhappy, stressful life. Here are a few of the rewards that come from regular practice:
more clarity in your thinking and emotions with more apparent paths to decision-making and problem-solving. 
more joy and meaning in your relationships with enhanced listening, engagement, and growth in those relationships. 
better management of your emotions and increased compassion for yourself and others.
more awareness, feeling happier and calmer because you are more resilient and managing your life successfully.
enhanced physical and mental health.
Staying Present and Choosing a Lifestyle of Mindfulness
When I share with those I work with, the fact that we have approximately 50,000 thoughts daily, I usually receive a surprising reaction. Yes, it is incredible how we manage thousands of ideas and choose which ones to act upon. It's no wonder all those thoughts can overwhelm and distract us.

We all work through a variety of situations that hijack our thoughts and emotions as we move through our day. Practising mindfulness can help us develop more robust resilience and joy.
Mindfulness Through Meditation
"Mindfulness isn't difficult. We just need to remember to do it." - Sharon Salzberg
Mindfulness can be achieved through meditation and can be defined as contemplation, thinking, reflection or deliberation. The feeling of deep peace occurs when our minds are calm and silent.

For some, meditation is a vital step in achieving sound sleep. At other times of the day, it may just be the need to switch gears from a meeting on a complex project to problem-solving with a co-worker from earlier in the day or talking to your teenage son or daughter about the current pressures they are facing. Meditation can help us switch gears more effectively as it shuts down the chaos and distractions in our minds.

Let's focus on the strategy of meditation, making it part of our well-oiled routine.
Regardless of how you incorporate mindfulness into your day, you are sure to strengthen your ability to regulate your emotions and create a more joy-filled life.
---
More Motivational Reads Here »
---
Are you Emotionally Intelligent?
Sign up for Linda's monthly tips to build your Emotional Intelligence and reduce Emotional Hijacking!
---