Being aware of our emotions and learning ways to manage them will make a tremendous difference in our interactions with others and our overall success in life. That's why it's so essential to develop self-awareness in the first place. 
---
Developing self-awareness to manage emotions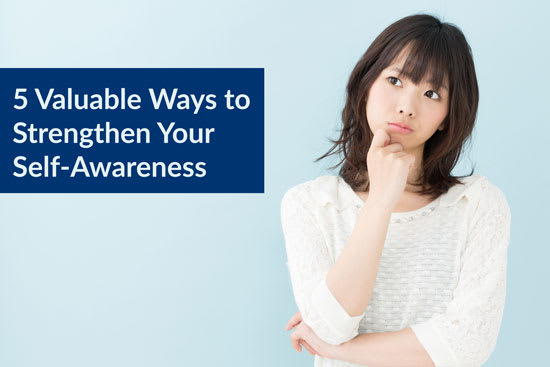 Self-awareness, a key component of Emotional Intelligence, is your ability to correctly recognize your emotions and be mindful of them as they occur. We use our self-awareness skills to notice our feelings and judge if our needs are being satisfied. 

As you can imagine, these skills come in handy virtually every day, in almost every interaction we have. Even interactions with ourselves! 

Naturally, strong self-awareness is necessary to become successful, and a lack of it will limit our potential. But if your self-awareness isn't where you want it to be, can you develop self-awareness? Or is it set in stone?
Here's some good news: You CAN develop self-awareness! 
To do so, you need to start identifying what you do well and the skills you need to develop. Once you understand your skill level, you can learn to lead with your strengths and develop strategies to strengthen the skills you need to build.
5 Valuable Ways to Develop Self-Awareness
You can strengthen your emotional intelligence immediately just by becoming more self-aware. Here are five ways to start!
1. Get to know yourself.  
It's no surprise that to develop self-awareness, you also need to get to know yourself. 

Carve out some time in your schedule to become aware of what makes you tick. Be sure to consider what you do well and what you need to work on. 

Try this short emotional intelligence quiz to get you started. Spend just five minutes on it and let it help you determine how self-aware you are (a key component in your emotional intelligence!).
2. Meditate to practice mindfulness.
Practicing mindfulness will positively change your life by helping you be more present. Spend time each day focusing on what you are doing and living in the moment.

For more on staying present and choosing a lifestyle of mindfulness, visit this post. 
3. Keep a journal.
Journaling is basically thinking on paper – writing whatever comes to mind. Journaling not only helps you measure your goals but also become more reflective of your life.

For more on the benefits of journaling, take a look at 10 Unexpected Ways Journaling Can Make Your Life Better.
4. Practice being an active listener. 
Being an effective listener is one of the most important skills you can have. When you demonstrate you're genuinely listening to others, it has a tremendous effect on personal and professional relationships. 

As you strengthen your active listening skills, you become more intuitive and aware of yourself. It's true: not only will you be better at listening to others, but you'll also become better at listening to YOURSELF. 
5. Ask for feedback.
Don't be afraid to ask others for feedback! You can learn lessons about yourself from everyone you encounter. Find a trusted friend or mentor to ask for advice, feedback, or anything else that might benefit you to hear.
Other people often see things you don't see in yourself, and their input can be invaluable. Do your best not to take feedback personally, and focus on how you can improve where you need to, rather than focusing on what you perceive as failures or weaknesses. 
Without a doubt, self-awareness is a valuable skill that provides insight into establishing and maintaining positive relationships. So, put these five tips to work for you to help you develop self-awareness and just watch how it can improve your life, your relationships, and even how you feel about yourself. 
Adopt a growth mindset to become more aware of your emotions and realize your goals. For one-on-one guidance with reaching your goals, including self-development, team building, employee relationships, and more, Click here?
---
This article was originally published on January 19, 2019, and has been updated (January 2021).
---
More Motivational Reads Here »
---
Are you Emotionally Intelligent?
Sign up for Linda's monthly tips to build your Emotional Intelligence and reduce Emotional Hijacking!
---