Many of us don't realize the power of our mindset. It affects the way we contemplate our every move, determines our quality of life, relationships and ultimately potential. Make 2020 great by choosing a positive mindset.
---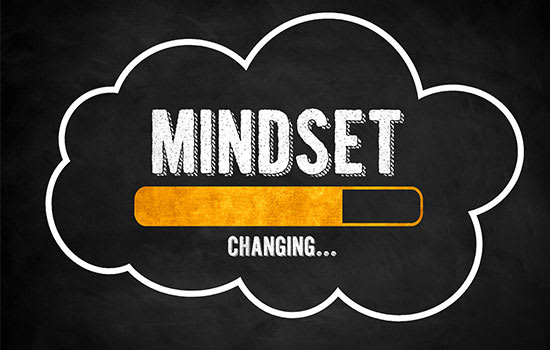 How Mindset Impacts The Direction of our Lives
Our mindset reinforces our beliefs and attitudes, which have a considerable effect on our actions and behaviour. It allows us to view our intelligence and ability through a fixed mindset such as "I am what I am" or a growth mindset such as "I'm capable of anything". This, in turn, impacts the direction of our lives.
Adopting a Growth Mindset
If you've been stuck in a fixed mindset pattern, don't worry…it is possible to develop a growth mindset.
Psychologist Dr. Carol Dweck author of Mindset – the Way You Think to Fulfil Your Potential, has done extensive research on this subject. She writes, "Why hide deficiencies instead of overcoming them? Why look for friends or partners who will just shore up your self-esteem instead of ones who will also challenge you to grow? And why seek out the tried and true, instead of experiences that will stretch you? The passion for stretching yourself and sticking to it, even (or especially) when it's not going well, is the hallmark of the growth mindset. This is the mindset that allows people to thrive during some of the most challenging times in their lives."
The resilience achieved through this mindset makes it worthwhile to put ourselves out there, being vulnerable to the many positive outcomes.
Realizing a Win
Unequivocally, I can say it's my growth mindset that led me to write my second book (coming Fall 2020). It enhanced my level of resilience and prompted me to adopt a "never give up" attitude.  My positive mindset laid the groundwork for success. Of course, knowing that I had the ability to do it helped immensely, but the effort involved is daunting and can easily dissuade one from moving forward unless your beliefs play a strong role in guiding your decision.
3 Important Questions to Consider for a Successful 2020
What type of mindset do you have?
Is your mindset working for optimum results?
Do you praise those around you for their process or talent?
If you commit to a growth mindset and plan accordingly, you are making a positive quick start to your new year. Once you make your goal public, it's pretty difficult to not follow through. If you focus in on your mindset daily, you are sure to see a noteworthy difference in your relationships and life.
---
More Motivational Reads Here »
---
Are you Emotionally Intelligent?
Sign up for Linda's monthly tips to build your Emotional Intelligence and reduce Emotional Hijacking!