Have you contemplated how resilient you are lately? Resilience is part of our well-being; those with high emotional intelligence tend to be more emotionally resilient.
---
Resilience Unveiled: Unlocking Your Capacity to Overcome Life's Obstacles
Most of us accept that life is full of challenges and stress. As our emotional intelligence improves, we learn to cope with and manage our difficulties. And then, as we do, we become more resilient, positively impacting our well-being. 
Hopefully, each time we work through an encounter, we also learn from it, so the next time we face that situation or something similar, we find it more manageable.
Practise Makes Us More Resilient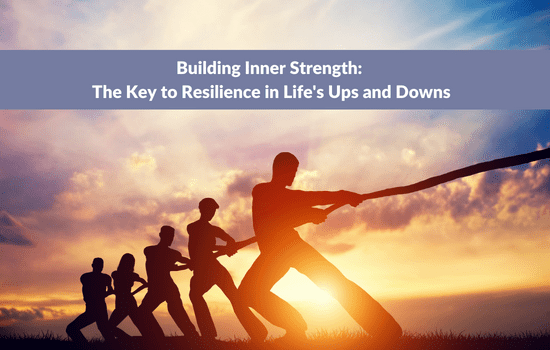 Strengthening self-awareness and self-reflection skills deepens our knowledge and ability to live a balanced and happy life.
I've personally experienced this. I also observe this in my clients. As they work through difficulties, they become more resilient and strengthen their emotional intelligence. By developing their emotional intelligence, they can better manage themselves under pressure and stress. I write about resilience in my book, The Power of Emotion, A Practical Guide to Making The Most Of Your Emotional Intelligence.
For this reason, most of our clients invest in emotional intelligence training programs. They see the positive impact on their and their team's well-being and the value of providing professional development opportunities to improve skills and develop resilience and continually adjust behaviour through experiences as they happen.

Read more about my own experience with becoming more resilient in this post: Navigating Stress with Grace: Building Resilience Step by Step.
How To Cultivate And Build Resilience
Before we talk about exactly how to build resilience, we should talk about precisely what it means. So, what is resilience? It is our ability to recover from or adapt to adversity. 
But as you can imagine, 2020 has brought out an entirely new meaning to the term resilience. Now, more people than ever continue facing job and food insecurity challenges, increased health risks, social isolation, and many other incredible challenges. We live in a new world post-COVID.
(Click here to read about some of the powerful lessons we can learn from COVID)
Throughout our lives, most of us witness examples of resilience weekly, if not daily. Today, you can't turn on the news without hearing a powerful story about someone's own experience with adversity and how they overcome it. How well some people handle tremendous life challenges and bounce back is incredible. Their resilience not only helps them endure these circumstances, but they also become stronger and more resilient by overcoming them. Without question living through COVID has made all of us more resilient.
Naturally, we want to build these skills in ourselves. After all, there are so many benefits to being more resilient. To name a few, improved mental health, overall well-being, and a longer lifespan.
Fortunately, we can learn to be more resilient and cultivate this skill daily while improving our emotional intelligence. We become more resilient when we accept and grow from our errors and failures.
Yes, we can consciously build our resilience to support us during minor and significant challenges. Here's how.
Three Ways To Train Resilience
Author Chade-Meng Tan shares in his book, Search Inside Yourself, that resilience is overcoming obstacles along the way. Here, he shares how we can train resilience on three levels:
Inner calm: Once we can consistently access the inner calm in the mind, it becomes the foundation of all optimism and resilience. (Visit this link for more on the power of optimism and how to harness it.)
Emotional resilience: Success and failure are emotional experiences. By working at this level, we can increase our capacity for them.
Cognitive resilience: Understanding how we explain our setbacks to ourselves and creating useful mental habits help us develop optimism.
As we learn and practice the above three levels of resilience, we will be better prepared to manage difficulties and bounce back from setbacks quickly while building our emotional intelligence. If you want to become more resilient and improve your emotional intelligence, consider taking a self-assessment to provide a personal analysis of your perception of your behaviour.
Did you like reading about how to build resilience? Here are three similar posts you won't want to miss:
---
This article was originally published on February 26, 2017, and has been updated (August 2023).
---
More Motivational Reads Here »
---
How Emotionally Intelligent Are You?
Sign up for Linda's monthly tips to build your Emotional Intelligence and reduce Emotional Hijacking!
---