Undoubtedly, we all experience joy differently. It plays an integral role in our life - it's the feeling of great pleasure, happiness, and peace, but it's not an innate feeling - we have to work to ensure we have joy.
---
As Henri Nouwen states, "Joy does not simply happen to us.  We have to choose joy and keep choosing it every day."
Here is what I know about joy…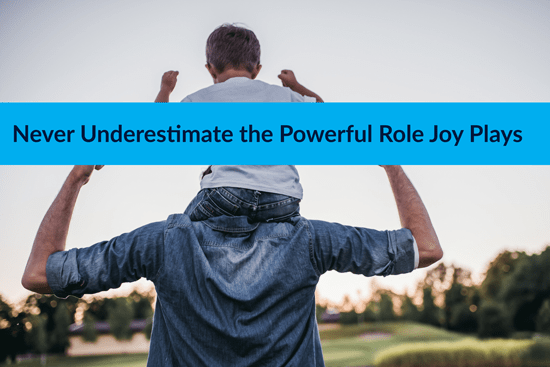 I've spent a great deal of time researching and reflecting on the role joy plays in life. I've come to understand that it is an underlying feeling in your core that elevates you and enriches your life.
No matter what happens in your day, including unexpected challenges you face
, connecting with your inner joy, is vital.
Choose joy each and every day
We all experience moments that bring added pleasure, but joy should be a core part of us. Recognizing and celebrating joyful simplicities – the small things in life, bring feelings of comfort, well-being, and peace of mind.
Each morning, if we're fortunate to open our eyes, we can tap into our inner joy just by being thankful to be alive. We set the tone of our day and make a choice that directs our day positively or negatively.   
Fear can be paralyzing…
Many individuals let fear set their path. After years in one career, they may feel they want a change but rely heavily on the financial rewards and stability their job offers, so they stay. Leading to them sacrifice their joy and often happiness.
Fear can make us feel paralyzed, robbing us of the pursuit of things that might be. It sucks away life's joy, compelling us to play it safe, stuck in mediocrity. That place might feel more reliable, but it's dangerous in that it drains the spirit and wastes human potential. Not to mention, often lack of joy creates negative emotional contagion, which spreads outwards to those around them.
Overcoming the fear of failure
It takes great courage to overcome the fear of failure. Realizing that perfection is impossible, and it's okay to make mistakes is essential. We learn and grow from our errors and move forward with that knowledge. The greatest inventions in the world were born out of failure and materialized because inventors didn't quit, instead they found success through their mistakes.
Never settle, never give up on your path to finding joy.
Our journey through life can be challenging; we need to build resilience to fill us with the mental, emotional and physical stamina necessary to manage our feelings, daily trials and tribulations to hold on to our inner joy. 
The positive role joy plays in life is profound. Ensure it's a priority in your life, trust me, once you have the feeling, you'll never look back! Be sure to check out many more motivational blogs here.
---
This article was originally published on June 1, 2019, and has been updated.
---
More Motivational Reads Here »
---
Are you Emotionally Intelligent?
Sign up for Linda's monthly tips to build your Emotional Intelligence and reduce Emotional Hijacking!