We're approaching the holiday season, which tends to heighten emotions, perhaps, even more, this year due to Covid-19. I share the power of smiling and laughing throughout the holidays.
---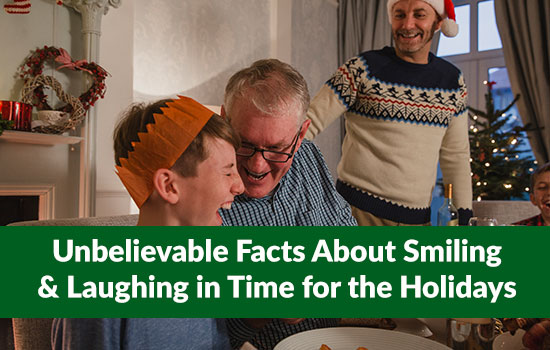 Living with Covid-19 through the holidays
Don't let the holiday season hustle and bustle get you down. It's so easy to get caught up in the commercial aspects of the season, but this year more than ever, we need to be gentle with ourselves. Consider lowering the bar this year; do less and enjoy living in the moment. The unprecedented Covid-19 has hijacked our lives this year, but it won't be here forever. Living with the challenges of Covid-19 will undoubtedly make us more resilient if we are open to learning the challenging lessons it brings.
Smiling and laughing more will change your life for the better. 
When you're in a challenging situation or feeling troubled, your negative thoughts can actually inhibit you from making the necessary rational decisions and/or reduce the patience you need to wait it out. In these moments, you need a distraction to allow a positive frame of mind control or allow time for your rational thoughts to emerge. Trust me, waiting it out will always provide better results.  
Believe it or not – a smile is the perfect quick distraction!
A smile is a simple and useful self-management tool. Your smile will offset your negative emotional state. Laughing and smiling sends signals to your brain to tell if you are happy. Once that occurs, the thoughts your mind produces are suddenly positive. Smiling is so powerful it can make you forget what you're upset you. By the time you remember the upsetting situation, your brain's perspective towards the challenge changes. This strategy can also be very effective when you don't have time to deal with a problem and need to be upbeat and engaging for your next family visit (during the holidays) or meeting if you are at work. 
If you feel down, you can override your emotions through tactics like watching television, a movie, or reading a humorous book. Smiling and laughter can redirect your mood and help you feel better. Once you regain a happy feeling, you can begin to experience joy and return to living in the moment! 
As life moves on, the Coronavirus will too. Yes, the good news is this situation will not last forever. Let's navigate this pandemic by continuing to smile and laugh over the holidays. We can do this by keeping it positive! Be sure to check out many more motivational blogs here. 
---
PART TWO » Unbelievable Facts about Smiling & Laughing (in time for the Holidays)
---
This article was originally published on December 16, 2017, and has been updated (November 2020).
---
More Motivational Reads Here »
---
Are you Emotionally Intelligent?
Sign up for Linda's monthly tips to build your Emotional Intelligence and reduce Emotional Hijacking!
---