Self-care is paramount to our well-being. Recharging must be a priority to support our development and ability to help others. Focusing on self-care will also improve our emotional intelligence.
---
The Impact of Self-Care on Your Well-Being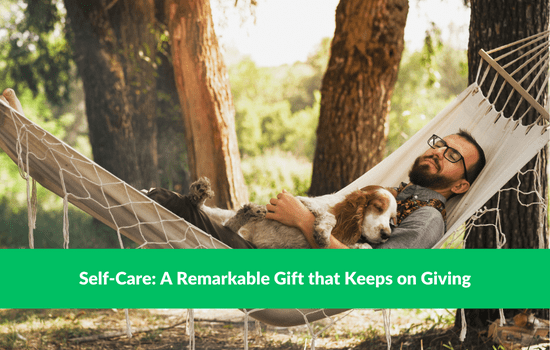 So many of us forget to care for our most valuable resource – ourselves. When we lose focus on our well-being, we put the quality of our life and those around us a risk. Through my work in emotional intelligence, I've learned when we focus on our self-care, we increase our interpersonal success, strengthen our emotional intelligence, and build resilience.
Self-care is not a selfish act! It's about focusing on and maintaining your physical, emotional, and mental health. We need to strengthen these areas to manage stress. When we engage in daily self-care, our brain recharges and responds positively, supporting our everyday challenges.
Start Your Day Right
How we begin our day can affect our well-being for 24 hours. I recommend starting each day by waking up at least 15 minutes before you need to. This extra time allows you to begin your day calmy as you move into your morning routine. Begin by slowly taking five deep breaths and stretching from head to toe before leaving the bed.
Calmly visualize your day, and think about the activities you're looking forward to doing. If nothing excites you, consider adding a coffee break or lunch date with someone who puts a smile on your face. This practice is an excellent way to commence your day positively.
It's All About Balance
Balancing your day with work and relaxation enhances your health, nutrition, fitness, and overall wellness. Find ways to include these elements into your daily routine wherever possible—schedule time with close friends and colleagues to achieve these necessary benefits to attain the balance you require. Remember, we're all unique, so our needs will differ. And that's okay! Regarding self-care, comparing ourselves to others is detrimental to our well-being.
Ways to Recharge Physically, Emotionally, and Mentally
When we recharge physically, emotionally, and mentally, we enhance our self-care and give ourselves and those around us a gift that keeps giving throughout our entire day.
Tyler Ouwendyk, Owner of Momentum Fitness, recommends these five strategies to assist in recharging physically, emotionally, and mentally:
Engaging in regular physical activity helps you sleep better, increase your energy, gain focus, boost your mood, and contribute to overall happiness and well-being.
Focusing on proper sleep hygiene is a huge contributor to short-term and long-term overall health. Aim for 7-8 hours of sleep each night, and make sure your room is cool and dark. Most importantly, do your best to set a consistent bedtime and wake-up time. 
Dial in your nutrition with the 80/20 rule! Where 80% of what you eat is nutritious, whole foods fuel your body with adequate nutrients to function optimally and feel your best. And 20% of what you eat is fun, likely more processed foods, allowing you to enjoy some dinner parties with friends or a quiet date night with your partner, both of which can be integral to recharging and your overall happiness and health.
Dive into a hobby! Some examples are walking, bike riding, reading, knitting, gardening, building or working on small projects, joining a recreational sports team, yoga, meditation, or watching tv. The options are endless, so make it specific to your needs. Ask yourself these questions: What hobbies or activities do you enjoy? Which of these help you relax and unwind? And which of these brings you happiness and joy?
Set clear boundaries between work and life. This one is my favourite and one of the most challenging practices. Many of us work from home, meaning home and work life have become one. We also live in an age where we receive every single work call, message, and email instantly and at our fingertips. Plus, if you work for an employer, they probably ask you to do more and more, which spills over your 8-hour day. And if you work for yourself, you already know all the hats you need to wear. I recommend making your calendar your best friend. Schedule strict times for work, exercise, hobbies, family time, meal prep, and bedtime
Tyler's excellent recommendations support the flow of natural systems to help our body and mind recharge. This recharge enables you to focus and leads to improved self-management, a critical emotional intelligence personal competency that affects our well-being. If you want to enhance your emotional intelligence, pick up a copy of my book, The Power of Emotion.
Keep in mind; your well-being benefits everyone –so focus on self-care and make it a priority. Remember, we believe the story that we tell ourselves each day! Marshall Connects offers Emotional Intelligence Assessments and Coaching to enhance skill development in all areas, including self-management techniques like self-care.
---
This article was originally published on September 12, 2020, and has been updated (July 2023).
---
More Motivational Reads Here »
---
How Emotionally Intelligent Are You?
Sign up for Linda's monthly tips to build your Emotional Intelligence and reduce Emotional Hijacking!
---