We never want our emotions to rule us, instead, we want to manage our emotions and always put our best foot forward. This holiday season; make sure you try our suggested self-management tool of smiling and laughing.  
---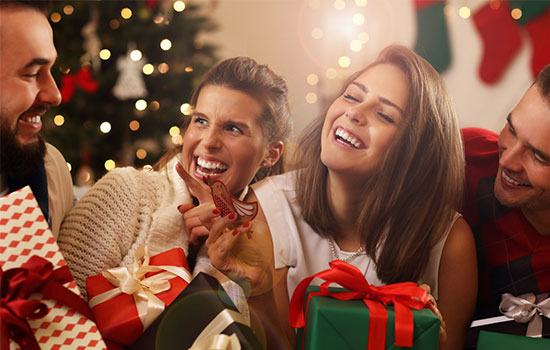 Oscar Wilde once said, "I don't want to be at the mercy of my emotions. I want to use them, to enjoy them, and to dominate them." 
In our two-part blog series, we're sharing some unbelievable facts about smiling and laughing and how they can positively impact a negative or emotional situation. As we become more aware of our emotions it gives us the power to choose how to respond.
Smiling and laughing is good for us in so many ways, Katie Gillespie suggests the following reasons why:
Laughing relieves tension. Laughter relaxes the muscles in the body and eases stress, anxiety, and fear.
Laughing feels great. Laughing releases endorphins, the chemical in the body that makes you feel great. 
Laughter brings us together. Sharing a good laugh with others is a wonderful way to bond and have a good time in social situations. 
Laughter is healing. Laughter is an amazing source of both physical and emotional healing. Physically, laughter improves blood flow, deep breathing and boosts your immunity (not to mention, it strengthens those abs). Emotionally, finding the humor in even the most difficult things we face can be a powerful step to bringing some light to dark times. 
Laughter is beautiful. Laughter attracts others who like to laugh. Plus, aging lines from laughter are beautiful markers of a life well-lived.  
We know that there are reasons why we have moods and it is important to understand that as we learn to regulate our emotions we can better manage them. Don't forget to consider smiling and laughing the next time you are feeling down and you want to project a positive message to others!
---
PART ONE » Unbelievable Facts about Smiling & Laughing (in time for the Holiday's)
---