We never want our emotions to rule us; instead, we want to manage them. To be the best version of yourself, try smiling and laughing, excellent self-management strategies sure to make your holiday season shine. 
---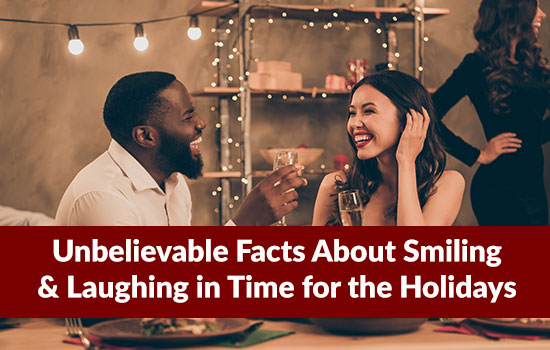 Oscar Wilde once said, "I don't want to be at the mercy of my emotions. I want to use them, to enjoy them, and to dominate them." 
In our two-part blog series, we're sharing some unbelievable facts about smiling and laughing and how they can positively impact our negative emotions. As we become more familiar with our emotions, we are empowered to manage them effectively. 
Keep the holidays simple.
Managing emotions during the holidays can be challenging at the best of times. It's the time of year when some individuals may feel depressed or anxious. No matter one's age, navigating holiday events can be stressful and overwhelming for various factors. Often we place unrealistic expectations on ourselves and others. Our holiday rituals and festivities frequently include excessive commitments that can put a great deal of pressure on our time, resources, and finances, which can rob us of the joy of the season. There is much to be said about keeping things simple to enjoy the holidays.
Smiling and laughing benefits us in so many ways; Katie Gillespie suggests the following reasons why:
Laughing relieves tension. Laughter relaxes the muscles in the body and eases stress, anxiety, and fear.
Laughing feels great. Laughing releases endorphins, the chemical in the body that makes you feel great. 
Laughter brings us together. Sharing a good laugh with others is a wonderful way to bond and have a good time in social situations. 
Laughter is healing. Laughter is an amazing source of both physical and emotional healing. Physically, laughter improves blood flow, deep breathing and boosts your immunity (not to mention, it strengthens those abs). Emotionally, finding the humor in even the most difficult things we face can be a powerful step to bringing some light to dark times. 
Laughter is beautiful. Laughter attracts others who like to laugh. Plus, aging lines from laughter are beautiful markers of a life well-lived.  
During the holiday season, be sure to consider the value of smiling and laughing. Practise some strategies to ensure you keep your emotions in check.We know there are numerous reasons we have moods, especially during the holidays. And with the increased challenges of Covid-19, we must regulate our emotions to enjoy our family and friends during these unprecedented times.
Don't forget to focus on smiling and laughing the next time you feel down to lift your spirits, positively impacting your emotions. Be sure to check out many more motivational blogs here.
---
PART ONE » Unbelievable Facts about Smiling & Laughing in time for the Holidays
---
This article was originally published on December 23, 2017, and has been updated (November 2020).
---
More Motivational Reads Here »
---
Are you Emotionally Intelligent?
Sign up for Linda's monthly tips to build your Emotional Intelligence and reduce Emotional Hijacking!
---