As we prepare for Thanksgiving, the time of year, we reflect on the things we are grateful for and express our gratitude and appreciation. We must realize how impactful gratitude practice can be daily, especially during COVID-19.
---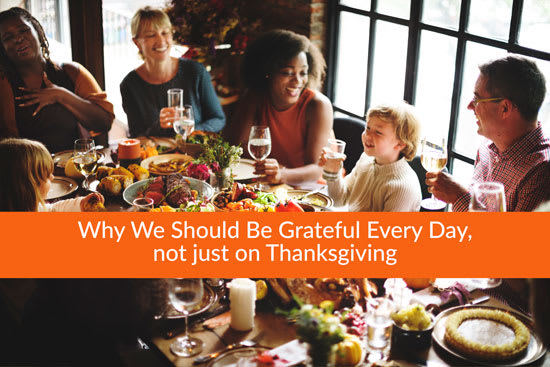 Thanksgiving is a national holiday when family and friends celebrate the harvest and blessings of the past year. Giving thanks and celebrating Gratitude on Thanksgiving is essential; it is something we don't practise enough.
For some, speaking of the things we are grateful for in our life happens yearly at the Thanksgiving dinner table. Our lives positively change when we practise Gratitude repeatedly. "By adopting an attitude of Gratitude every day of the year, we can enhance our happiness and overall sense of well-being. Once we feel it, we want to reach out and help others. When saying the words "thank you" to the person who pours your morning cup of coffee, you are practising Gratitude.
How you can foster gratitude.
When it comes to expressing gratitude, we need to understand that it must be practised – it's not innate. Practising gratitude will be the catalyst for increasing joy in your life. A little appreciation goes a long way toward changing someone's day and fosters a culture of appreciation. Roy Saunderson says, and I agree, "Never neglect to say thank you, no matter what you give." Thank you is extremely powerful, and it's so simple!
Simple suggestions on how to show your gratitude.
Express your appreciation to the person who opens a door for you. 
Send a thank-you or thinking of you card to a friend or colleague. 
Place a flower on a colleague's desk. 
Buy a cup of coffee or a snack for the person in line behind you. 
Say the words "thank you" often each day as an expression of your gratitude.
How living with COVID-19 taught us gratitude.
The novel coronavirus has evoked many emotions in us, including fear, which is a strong emotion and a reasonable reaction considering the gravity of the situation. As we worked through this and other emotions, many of us began to spend time contemplating our lives. This practice encourages us to live in the moment and appreciate the many things we are grateful for, including friends and family.
 
COVID-19 has offered many lessons and experiences to appreciate all we have to be grateful for in our life. Sometimes, we have to lose things and miss opportunities to understand what we had and what is important to us.
Practising gratitude each day will change your life.
As you prepare for Thanksgiving: embrace life, recognize the bounty, and share it. Remember the profound power of saying thank you every day, not just on Thanksgiving. Start by being grateful for the small gestures and experiences that each day brings us.
Be sure to check out many more motivational blogs here. Thank you for taking the time to read this blog. I hope that you enjoy a fabulous Thanksgiving!
---
This article was originally published on September 30, 2017, and has been updated (September 2020).
---
More Motivational Reads Here »
---
Are you Emotionally Intelligent?
Sign up for Linda's monthly tips to build your Emotional Intelligence and reduce Emotional Hijacking!
---