There's much to be said about enjoying every day, taking the time to live in the moment while practising social awareness. However, being present in your personal and professional life requires both work and strong emotional intelligence.
---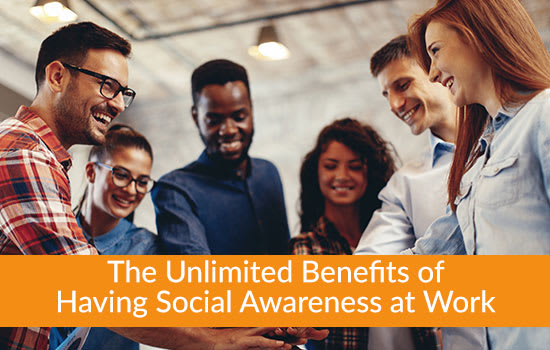 The old saying, "stop and smell the roses," is quite fitting when it comes to social awareness (and a lot more!).
If we actually stop and smell the roses, we realize how fortunate we are and how many of our day-to-day pleasures might be taken for granted or overlooked altogether. We might also lack awareness in our social interactions, and this lack of social awareness can profoundly negatively impact our lives.
When we lack social awareness, it can be due to what I call a 'drive-by life'.
Do you live a 'drive-by life'?
Do you find yourself running through the day tightly tied to your calendar, not taking time to be present as you brush by colleagues and family members to complete the next task or appointment?
If it feels like your passions are getting in the way of living in the moment, you might be living a drive-by life. I write more about my thoughts on this here.
If so, it might be time to develop your social awareness skills. Contemplate the benefits of spending time at work and home observing those in your surroundings and how it can help you create an awareness of what occurs right in front of you. This practice will also enhance your emotional intelligence.
While you're working on developing your social awareness, you might also want to learn about observing the ripple effect of your emotions. Here's how.
Ways to develop your social awareness.
It starts with just 10 or 15 minutes—pretty doable, right?
You can improve your social awareness skills at work by taking 10-15 minutes of your time by taking a tour of your surroundings. Take notice of both the mood of the room and those around you.
Here's how:
Find a social setting such as a coffee shop, mall, museum, etc. Ideally, you want to select a location where you won't be interrupted during your time there.
Locate a comfortable spot and sit down and view your surroundings.
Watch those around you and listen to their conversations.
After taking some time to focus on social interactions, you will become curious about the people you observe.
The positive effects of increased social awareness.
Here's the thing—no matter what your role is at work, if you invest time to get to know those around you, it will significantly enhance your relationships and social awareness. Here's more on how social awareness can improve your relationships.
When you focus on others and learn about them, you'll be surprised by how that information will positively impact your work and relationships. Increasing your social awareness will have a significant impact on your life! In fact, the benefits of social awareness are limitless at work and in your personal life. If you would like to improve your social awareness, a key component of emotional intelligence, consider taking a self-assessment to provide a personal analysis of your perception of your behaviour.
This article was originally published on November 8, 2018, and has been updated
---
This article was originally published on August 11, 2018, and has been updated (June 2021).
---
More Motivational Reads Here »
---
Are you Emotionally Intelligent?
Sign up for Linda's monthly tips to build your Emotional Intelligence and reduce Emotional Hijacking!
---