Are you living your life to the fullest, enjoying moments as they occur, or has your life become a drive-by experience? A healthy work-life balance is vital to living your best life.
---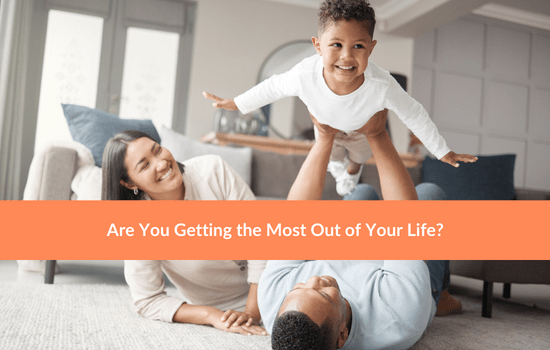 Do You Want To Live Your Best Life?
When we care for ourselves and live in the moment, feeling things as they occur, we live our best life with many joyful moments.

 If we live our lives very fast-paced, on a tight schedule, moving from one thing to the next, we lack work-life balance and often become so busy that we miss the little things that occur around us that bring us joy. As we approach the end of the day, we often do not recall critical elements of our day.
"Be mindful that your life is not so busy that you stop appreciating what really matters. Somewhere in the ebb and flow, there must be time to reflect and practice gratitude" – Linda Marshall
Drive-By Life Phenomena
Several years ago, I coined the phrase "drive-by life phenomena" when writing my first book, Giving Back, How to Find Your Personal Joy and Make a Difference to Others. During that time, I lived a classic drive-by life: managing countless to-do lists of meetings and appointments at work, rarely checking in with my emotions, or savouring my interactions and accomplishments along the way.

When we live this way and suddenly gaze in the rearview mirror, we realize all these moments are a blur. This behaviour robs us of living a complete life with the people who matter most to us. It is so easy to develop a habit of simply going through everyday life motions without taking time to enjoy the journey.
The Elusive Work-Life Balance
The first step is to determine what is causing this behaviour. It can often be related to not having the ideal work/life balance. Living in the moment, practicing mindfulness is the best way to achieve this balance. It's important to note that the balance will differ for each of us. When I am working, I try to focus solely on my work. I try to give them my full attention when I am with family or friends. However, I have also noticed that my passion for both parts of my life may get in my way. There are certainly times when I have found a pressing, daily tug to complete just one more task or make one more call, even after completing an exceptionally productive day.
Where Do I Start?
If you want to get the most out of your life, you must step back and decipher what is important: Is it family, work, or a combination and, if both are crucial, how do we make time for them? Essentially, it is all about improving your focus on what you are doing and making decisions that benefit you and everyone around you.
Pause and ask yourself: Is it hard to find a work/life balance because I don't want to change my work patterns? Is it too hard because I love the high I get from working so much daily? Or is it because I haven't mastered mindfulness yet?
Here are some questions to self-reflect on:
If you are, consider some examples of why you believe this. 
If you're not, consider some examples of why you believe you are not.
What is one thing I could practice today to make my life more meaningful?
Although we may want to do it all, including living with an over-packed agenda, perhaps just accomplishing the high-priority items in a day is enough. Highly emotional intelligence individuals live a more balanced life, practice mindfulness, and are more self-aware.
To live a more balanced life, I recommend adopting a growth mindset to become more aware of your emotions and create a path to living in the moment. For one-on-one guidance with reaching your goals, including self-development, team building, employee relationships, and more, click here?
---
This article was originally published on June 29, 2019, and has been updated (June 2023).
---
More Motivational Reads Here »
---
How Emotionally Intelligent Are You?
Sign up for Linda's monthly tips to build your Emotional Intelligence and reduce Emotional Hijacking!
---