Have you ever reflected if your body language matches the circumstances when you interact with others? It sends visual messages about what we're thinking, our emotions, and more. We must understand the impact it has on communication.
---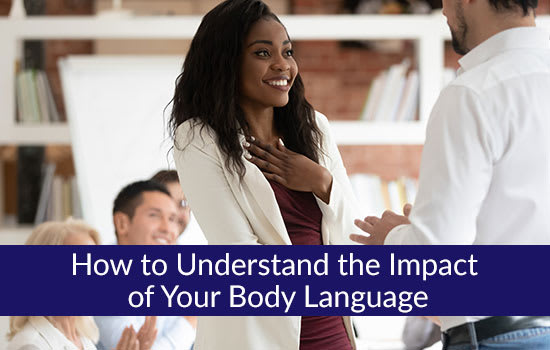 Pay careful attention to your facial expressions, body language, and speech patterns. 
Aspects of our body language like posture, eye movement, hand gestures, and facial expression will provide a vast amount of information. It's incredible how much we can learn about ourselves and through one another just through observation. Our body language influences how we communicate and reveals our emotions and what's going on inside us.
Have you ever left a meeting and one of your co-workers approaches you and asks, "Are you okay? You looked upset during the meeting?" When, in fact, you were not upset at all. Instead, during the meeting, your mind drifted to another challenging project or a future meeting. So, even if you felt you were in complete alignment, it's probable your facial expression and body language were not. Keeping our body language in sync with the current situation can be a challenge at times.
Most communication is non-verbal - this is a big wake up call.
Professor Emeritus of Psychology at UCLA Albert Mehrabian believes there are three core elements in the effective face-to-face communication of emotions or attitudes: nonverbal behaviour (facial expressions, for example), tone of voice, and the literal meaning of the spoken word. ….. Drawing on his findings, he formulated the 7-38-55% communication rule.

He concluded that only seven percent of the total message people receive is verbal; the other 93 percent is non-verbal, containing voice tone (38%) and body language (55%). The more familiar we become with our body language, the more likely we are to use our emotions appropriately. When our body language matches our feelings, we are "walking the talk.
Understanding how we connect and might be perceived by others strengthens our communication
skills and builds stronger relationships.
If you would like to
improve your self-awareness
, a key component of emotional intelligence,
consider taking a self-assessment
to provide a personal analysis of your perception of your behaviour.
---
This article was originally published on December 2, 2017, and has been updated (August 2020).
---