It's not always easy to monitor how our emotions impact our body language. I've outlined four powerful strategies you can use to manage them both and strengthen your emotional intelligence.
---
What Do You Project to Others?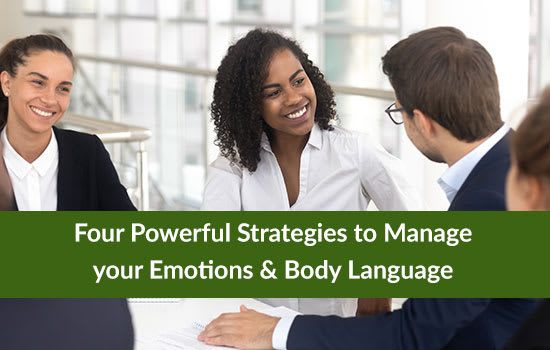 Everyone projects messages when communicating with others, many of which we are unaware of, including our emotions and body language. The good news is that we can learn to manage both of them. Remember, change won't occur immediately but developing, and practising strategies make all the difference. As our self-awareness increases, we build emotional consciousness, a critical component of emotional intelligence. When this happens, we become more intuitive with our emotions and their impact on our body language.
Getting to Know our Emotions
Believe it or not, our emotions are potent and guide all we do. But, unfortunately, many are unaware of the pivotal role they play in our life. I discuss this at length in my book The Power of Emotion.
To understand the impact of your body language, you must first be in tune with your emotions. Then, to manage yourself effectively, you need to be in synchrony with your feelings. Once you are, your body language will agree with the necessary emotional tone for the situation. 
Four strategies to effectively manage your emotions & body language:
Get to know your emotions. Once you learn to recognize, understand and manage them, your emotional intelligence will increase; regulating them will be easier.
Watch yourself like a hawk. Pay close attention to your facial expressions, body language. This focus will provide you with important information.
Be clear in your mind—focus on outcomes/goals. To begin, be clear of what you want to communicate and anticipated outcomes.  If you aren't clear in your mind, your body language is likely to give that away even if your words don't.  So, focus on your goals or outcomes—this will motivate you and help you communicate authentically with gestures that appear genuine. 
Avoid distracting habits. Learn what your disrupting practices are—these are small self-comforting touches we do when we feel anxious or unsure.  For example, do you fiddle with your jewelry, hair or tie or straighten your glasses more times than is necessary. Once you're aware of them, retrain yourself from using them. 
Throughout your day, your emotions will try to get the better of you. However, as you practise these strategies, you build your emotional intelligence and become more in tune with your emotions. Remember to be the best version of yourself; you always want to regulate your emotions instead of allowing them to manage you.
---
This article was originally published on January 27, 2018, and has been updated (June 2021).
---
More Motivational Reads Here »
---
Are you Emotionally Intelligent?
Sign up for Linda's monthly tips to build your Emotional Intelligence and reduce Emotional Hijacking!
---