Companies today want to be competitive, profitable and successful. To keep an organization cost-effective and productive, you must retain a dynamic team of highly motivated employees.
---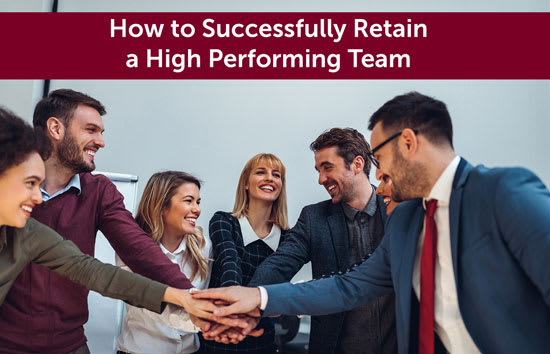 The challenge here rests with organizations that are unaware of how to retain positive and motivated employees.
I have the privilege of working with teams and individuals to strengthen their emotional intelligence, so this is one of my areas of expertise. It's relatively easy to successfully retain a high performing team and the process should start immediately when hiring a new employee.
Three simple ways to retain employees and increase productivity:
Building trust is vital
Express your appreciation
Develop a mentorship program
Building trust is vital
Building trust is vital to developing and maintaining strong relationships and is a key component of a high-functioning team. Team members should not feel the need to protect themselves from each other. Instead, they should appreciate and tap into one another's skills and experiences. Working as a team becomes easier and much more effective when we use our emotional intelligence skills to build trusting relationships. Trust is the glue that holds teams together when faced with challenges and setbacks. 
Express your appreciation
There are numerous ways to show your employees you appreciate them and you can begin by consistently demonstrating this. Employees really appreciate being affiliated with leaders who take them seriously, take the time to get to know them and understand their capabilities. When leaders practice this they are investing wisely in the company's future by building a bond between the employee and the organization. They're sending a clear message to them by validating the organization cares about them.
Develop a mentorship program
An organizations' greatest resource is their employees. Without a doubt cultivating a mentorship program will lead to increased and sustainable success for all involved. Such programs contribute to managing human resource challenges including employee retention, succession planning as well as the overall well-being of your team.
An in-house mentorship program provides an opportunity for more experienced or knowledgeable employees to guide new or less experienced employees. This type of support builds both skills and teamwork. Offering mentorship opportunities and resources validates the organization's commitment to the entire team.
Lead your organization to success today by using these methods to develop and retain a high performing team. Keep in mind that strengthening emotional intelligence across your organization is the strategy to achieve this and forms the required foundation that undoubtedly will positively impact everyone involved. 
---
More Motivational Reads Here »
---
Are you Emotionally Intelligent?
Sign up for Linda's monthly tips to build your Emotional Intelligence and reduce Emotional Hijacking!