A mentorship program can be a game-changer at all levels of your organization. Learn why mentorship programs are crucial and how to cultivate and develop mentors in this post.
---
Mentorship Magic: Strategies to Cultivate Mentors and Boost Your Bottom Line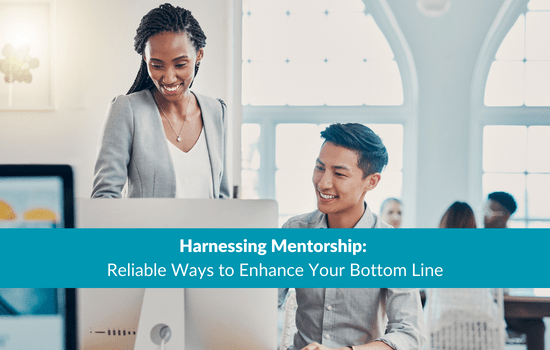 Indisputably, an organization's greatest resource is its employees. And one of the best ways to cultivate this resource and a successful organization at the same time is by developing mentors within that organization. Developing a mentorship program will undoubtedly lead to increased success on all levels, and in this post, we explain how.
Why A Mentorship Program Is A Win-Win For Your Organization
Today, many successful companies invest in their employees through in-house mentorship programs. They manage their human resource challenges by developing these programs, including employee retention, succession planning, and productivity. As a result, several benefits are realized, including validating that the organization cares about its employees and provides support and resources as part of its investment.
What Is Mentorship?
Wikipedia defines mentorship as "a relationship in which a more experienced or more knowledgeable person helps to guide a less experienced or less knowledgeable person. The mentor may be older or younger than the person being mentored, but they must have a certain area of expertise."
How does this definition line up with how you feel about mentorship? What would you add or change?
The Value Of A Mentorship Program
While this definition appears simple, I've learned through consulting with small and large teams that it's rarely considered a form of training.

Many individuals choose not to ask for mentorship support from colleagues simply because they don't want to impose. Additionally, many employees appear unaware of the benefit of mentorship, including the valuable resources mentors share from their work and life experiences.

Mentorship has played an essential role in my personal and professional development. Some mentors are with you forever, and others for short periods, depending on your needs. Without question, I have several mentors I can confidently go to for advice, and those positive experiences have inspired me to mentor others.

Developing mentors within your organization is instrumental to optimizing productivity in the workplace and enhancing employee engagement. When you create a mentorship program, it's a win-win situation for both the organization and the employees who participate in it—they both gain from the opportunity.
Why Are Mentorship Programs So Important?
They facilitate the transfer of knowledge, skills, and expertise from experienced employees to newer ones, ensuring a smooth transition and faster onboarding.
Employee development: Mentorship programs provide a structured framework for employee development. Mentees can receive personalized guidance and support, helping them grow professionally and personally.
Offering mentorship opportunities demonstrates that the organization values its employees' growth and development, increasing the likelihood of talent retention.
Mentorship programs help identify potential future leaders within the organization, enabling effective succession planning and reducing leadership gaps.
Mentees can gain valuable insights from mentors, improving job performance and increasing efficiency in their roles.
Enhanced company culture: Mentorship fosters a positive and supportive company culture, promoting collaboration and open communication among employees.
Engaged employees are more likely to be motivated, productive, and committed to their work. Mentorship contributes to higher employee engagement levels.
Seven Ways to Cultivate Mentorship at Your Organization
Establishing a mentorship program at your organization is a great place to start. But you can also take plenty of other steps to help cultivate mentorship at work. Many of these steps can make an impact today, so your entire organization can start benefiting from mentorship immediately.
Developing influential mentors is a goal every organization should strive for. To create influential mentors, they need significant attributes. If you want to cultivate mentorship, these are seven ways to start:
Aspire to support others while maintaining a positive attitude.
Commit to lifelong learning to continue to grow and develop.
Provide the mentee time to reflect on questions and experiences to advance self-awareness. (Discover five ways to strengthen self-awareness in this post)
Be an active listener to allow the mentee the opportunity to speak. (Learn more about how listening instantly improves employee relations in this post)
Observe body language to recognize when your mentee is in or out of their comfort zone. (Your body language significantly impacts how you interact with others. Learn more about this effect here)
Be non-judgmental and open-minded to allow the mentee to speak freely.
Deliver honest, objective feedback to the mentee and encourage empathy.
Mentorship programs play a pivotal role in building a skilled and motivated workforce, driving organizational success in the long run. Consider strengthening your organization today by developing influential mentors. Contact Marshall Connects today to enhance productivity in your workplace. A mentorship program for your employees can make the difference between high and low-functioning teams. We can help!
---
This article was originally published on February 9, 2019, and has been updated (August 2023).
---
More Motivational Reads Here »
---
How Emotionally Intelligent Are You?
Sign up for Linda's monthly tips to build your Emotional Intelligence and reduce Emotional Hijacking!
---