Employee appreciation is one of the best ways to retain a high-performing team and build a productive workplace. Here's how to show your employees you appreciate them.
---
Recognizing Value: Powerful Ways to Show Employee Appreciation
Employee appreciation is significant for fostering a positive work environment and boosting employee morale. Recognizing and valuing employees' efforts and achievements can increase job satisfaction, productivity, and loyalty to the company. It also helps reduce employee turnover and can contribute to better team collaboration. Regularly showing appreciation can have a significant impact on the overall success and well-being of a company.
True empathy requires that you step outside your own emotion to view things entirely from the other person's perspective. - Linda Marshall, Author of The Power of Emotion
Employees Are Your Organization's Biggest Asset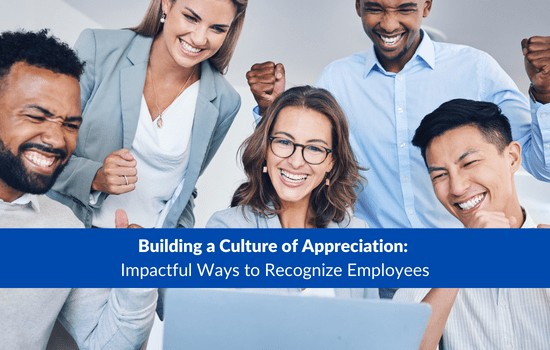 As a leader, how you demonstrate employee appreciation will directly affect your bottom line. Research indicates that empathy has a significant impact on productivity. Emotionally influential leaders make it their business to get to know their team and empathize to build strong relationships. Let's face it: the daily grind can impact your team, leaving them unmotivated and unproductive. Some days are more complex than others for employees to get up and head to work enthusiastically with a smile. It's much more comfortable when they know the organization; they work for cares about them.
(If you feel like your productivity could use a boost, don't miss this post)
In particular, their direct supervisor plays a significant role in motivating them to do their very best. It's vital that you—as a leader—understand the powerful role empathy plays in helping team members be more productive.
What Happens When We Don't Feel Appreciated?
I coach clients who are highly motivated leaders. They work hard, care about their team, and strive to show appreciation and willingness to go the extra mile.

However, I've heard many examples of employees who feel demoralized because they believe their hard work and dedication aren't recognized. Eventually, this starts to impact their work ethic, so realizing the value of employee appreciation strategies is imperative.
Appreciation Is A Human Need
All human beings need to feel supported—it's a basic need.
Your team needs to feel appreciated and believe their efforts are making a difference to the organization.
When leaders demonstrate empathy to their employees and let them know they care and value them, most employees will go above and beyond to support the organization.
Employee Appreciation Practice
Here are five helpful tips for demonstrating employee appreciation:
Show your team you care – go out of your way to provide them with evidence that you appreciate them. Offering coffee, lunch, thank you notes, and emails are just a few options that make a difference.
Tell them often – telling employees you care once or twice is not enough. They need to feel appreciated regularly in a variety of ways.
Don't expect perfection; it's not possible - No one is perfect, so expecting perfection sets everyone up for failure. When a team member makes an error, handle the situation with respect and compassion. You'll be surprised how positively this approach will affect the team member's future performance and overall motivation and send a positive message to others. Instead of perfection, focus on excellence. Here's how to shift your focus.
Share employee wins with others – celebrate your team member wins with others (including your boss and staff meetings). The more public praise and recognition employees receive, the more they'll feel appreciated. It's the management philosophy: Praise in public and criticize in private.
Treat them with respect - did you know that only 15 percent of individuals feel respected and valued by their employers? At the end of the day, it's how you make people feel that makes the difference.
When reading this list, if you're thinking, "I don't have time for this! I have more important things to do!". You're wrong and are missing the point entirely! Employee appreciation is one of the top three ways to retain a high-performing team successfully. Find out the
other ideas here
.
Investing in employee appreciation creates a positive work environment and improves employee morale. Acknowledging and respecting employees' efforts and achievements can increase job satisfaction, productivity, and loyalty to the company. It also helps retain a high-performing team, reduces employee turnover, and improves team relationships. Regularly demonstrating appreciation can substantially impact a company's overall success and well-being. I examine this topic in my book, The Power of Emotion, A Practical Guide to Making The Most Of Your Emotional Intelligence. 
---
This article was originally published on October 6, 2018, and has been updated (August 2023). 
---
More Motivational Reads Here »
---
How Emotionally Intelligent Are You?
Sign up for Linda's monthly tips to build your Emotional Intelligence and reduce Emotional Hijacking!
---