If you've noticed your productivity wavering, I recommend reflecting on your self-awareness. It's a core competency of emotional intelligence that is necessary for success; a lack of it will limit your potential.
---
How productive have you been during the first quarter of the year? Several of my clients have shared their productivity has wavered preventing them from meeting their targets and goals. If you're finding yourself in a similar situation, don't panic! I've provided you with simple strategies to boost productivity.
4 Simple Strategies to Boost Productivity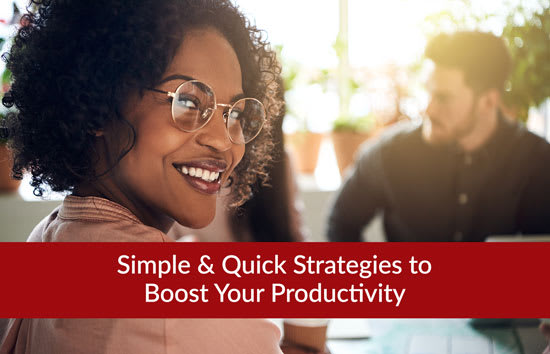 #1 Understand What Makes You Tick
Self-awareness not only helps you understand your strengths and areas of development, but it also provides valuable insight into your thoughts, beliefs, emotions, and motivation. It helps you understand what makes you tick. We use our self-awareness skills to observe our feelings and judge whether our needs are being met.
Take this brief self-awareness quiz to get to know yourself better.  
#2 Find Clarity is Vital To Success
Many of us live fast-paced lives, which I often refer to as a "drive-by life;" where we go through the motions every day without being mindful. It's essential we take time to step back and reflect on what is going well and what we need to adjust to find success.
On your road to success, you'll learn the importance of taking time to assess. As you deepen your self-awareness you'll begin to find clarity. Knowing what you want in life is essential, so be sure to define your wants and needs, and take time to reflect on what truly makes you happy.
#3 Exercise Self-Compassion Regularly
Are you self-compassionate? Do you know what being self-compassionate is?
Self-compassion is defined as extending compassion to one's self in instances of perceived inadequacy, failure, or general suffering. It's about acknowledging and knowing you're enough; showing yourself kindness.
Most of us are hardwired to focus on the negative, the things we don't do well. We're tough on ourselves which negatively affects our performance. Our productivity decreases when we're overly self-critical. Practicing self-compassion can reduce stress and assist us in moving forward more positively.
#4 Celebrate Achievements Along The Way
It's true that focusing and reflecting on goal achievement plays a significant role in productivity and is essential for success. Equally important is celebrating small achievements and wins with yourself and team along the way. This approach will help you achieve more accomplishments in a shorter period of time.
If you're interested in developing these skills, you would benefit from my consulting services and emotional intelligence training.
Occasionally, we require a slight tune up to increase productivity. Ensure you schedule time during your day to reflect and strengthen your self-awareness. Developing your self-awareness will increase your overall emotional intelligence, which is the number one predictor of success both personally and professionally.
---
More Motivational Reads Here »
---
Are you Emotionally Intelligent?
Sign up for Linda's monthly tips to build your Emotional Intelligence and reduce Emotional Hijacking!