Passion is the catalyst to happiness and success; it drives us to acquire knowledge, master skills, and have a growth mindset, ultimately enhancing our emotional intelligence.
---
Passion Unleashed: The Roadmap to Happiness and Success
Passion stirs excitement and emotion and motivates us to do things we may not otherwise. It encourages the anticipation of a brand-new day – a fresh start. We look forward to opportunities and challenges as our day unfolds, creating a positive mindset and enhancing our emotional intelligence.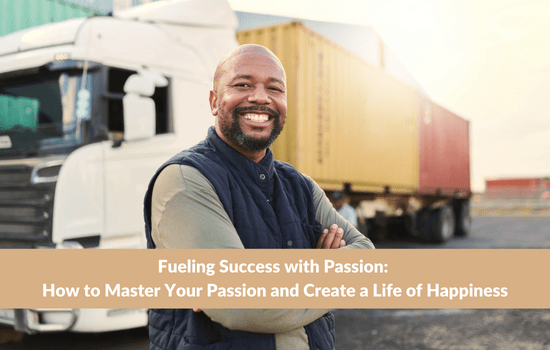 How Passion Influences Happiness and Success
Passion can play a significant role in both happiness and success. When you're passionate about something, it fuels your motivation, drive, and perseverance to pursue your goals. Passion brings a sense of fulfillment, joy, and purpose to your endeavours, which can contribute to your overall happiness. Moreover, it often leads to continuous learning and improvement, helping you excel in your chosen field and increasing your chances of success. However, it's worth noting that passion alone might not guarantee happiness or success. Other factors like skills, hard work, and opportunities also play vital roles.
Happiness Ignites Passion and Correlates to Success, Passion, and Emotional Intelligence
My energy and zest for life are endless because I am passionate about almost everything I do: family, work, and life. There is a direct correlation between passion and success – the more passionate you are about something, the more likely you will strive for excellence.  I'm on a journey to excellence which no doubt breeds success.
Passion Allows Us to Envision the Possibilities
We gravitate toward our passions, which provides the motivation necessary to set and realize our goals, a growth mindset. We demonstrate our enthusiasm in all we do, personally and professionally; it paves the way to excellence. Unquestionably, it brings joy and happiness into our lives; joyful people are more grateful, improving our overall health and mental health. Consider starting a gratitude practice to heighten your passion.
When writing my second book, The Power of Emotion, I interviewed top leadership professionals across Canada regarding their thoughts on their experiences with emotional intelligence. I learned a great deal from them during this process. More than one leader shared the importance of understanding what drives and motivates others and where their passions lie, which plays a role in their success.
Checking your emotions and asking yourself why you feel the way you do or what made you react to a situation is essential to healthy self-management. - Linda Marshall, Author & Marshall Connects President
Ways to Recognize Passion
You can't follow your passion until you know what it looks and feels like, including deeply diving into your emotions. You may want to begin by identifying your core values. Ask yourself what matters most to you, what makes you feel content. Do you have a growth or fixed mindset? Think of those around you that you consider passionate. These suggestions and questions will help you recognize your passion, increase your self-awareness and self-management, and strengthen your emotional intelligence.
Author Dr. Travis Bradberry outlines what makes passionate people different from everybody else.
Passionate people are obsessed.
They don't waste time.
They're optimistic.
They're early risers.
They're willing to take big risks.
They only have one speed—full tilt.
They talk about their passions all the time.
They're highly excitable.
They're all about their work.
Do you recognize yourself in this list? What can you do to become more passionate?
While passion alone may not guarantee instant success or continuous happiness, it is a powerful driving force that propels individuals towards personal growth, achievement, and a more fulfilling life. It promotes a growth mindset which kindles opportunities and supports emotional intelligence. Contact us today if you would like to lead a more passionate life.
---
This article was originally published on August 19, 2017, and has been updated (July 2023).
---
More Motivational Reads Here »
---
How Emotionally Intelligent Are You?
Sign up for Linda's monthly tips to build your Emotional Intelligence and reduce Emotional Hijacking!
---