Conflict is part of our lives, and the way we manage it affects how successful we are. Empathy plays an essential role in managing conflict, and if we can master this, it will profoundly impact our relationships.
---
True empathy requires that you step outside your own emotion to view things entirely from the other person's perspective.
Enhancing our Emotional Intelligence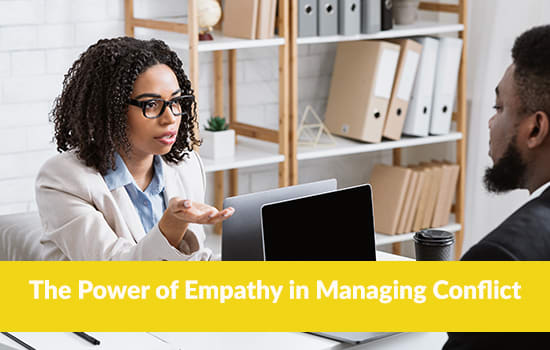 Typically as we strengthen our self-awareness, we develop empathic skills and enhance our emotional intelligence. Empathy is the foundation of emotional intelligence, and with practice, you can improve it and manage conflict more effectively.
We're not all born to be empathetic
When working with teams or individuals struggling to manage conflict in their professional or personal lives, I recommend they practise empathy. Not everyone is born with the innate ability to be empathetic. Some have to work diligently to develop constructive relationships with others. The good news is anyone can learn empathy.
Author Bruna Martinuzzi shares his tips for increasing empathy in his book, "
The Leader as a Mensch: Become the Kind of Person Others Want to Follow.
" I have used Martinuzzi's recommendations and agree they work well.
 Martinuzzi's Tips for Increasing Empathy
Listen – truly listen to people.
Don't interrupt people.
Tune in to non-verbal communication. 
Practice the "93 percent rule".
Use people's names.
Be fully present when you are with people. 
Smile at people.
Encourage people, particularly the quiet ones, when they speak up in meetings.
Give genuine recognition and praise. 
Take a personal interest in people.
Stop and respectfully listen
When it comes to using empathy to manage conflict, try this, stop, and respectfully listen to others' feelings. Then, attempt to put yourself in their shoes. Only when we do this can we relate to what the other person is feeling, especially if we have never experienced a similar situation.
Practising Martinuzzi's tips will strengthen your empathy skills and, most certainly, enhance your relationships with others. Did you know the power of empathy also plays a vital role in reducing mental health stigma? Learn more here.
If you want to learn more about emotional intelligence, be sure to review many more motivational blogs here. If you would like to take an EQ-i Assessment, check this out.
---
This article was originally published on January 20, 2018, and has been updated (March 2021).
---
More Motivational Reads Here »
---
Are you Emotionally Intelligent?
Sign up for Linda's monthly tips to build your Emotional Intelligence and reduce Emotional Hijacking!
---