You can learn to be a more compassionate leader. Strong leadership requires leaders to develop emotional intelligence and empathy to increase compassion.
---
The Journey of Compassion: Learning to Be a More Empathetic Leader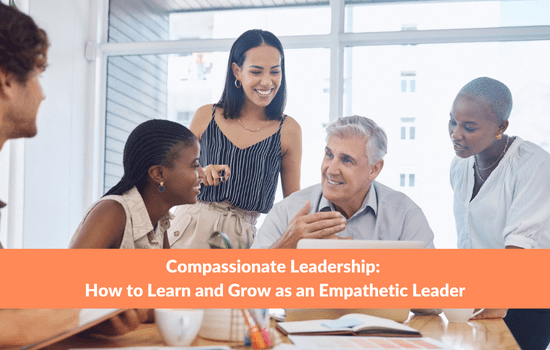 Over the past few years, I have focused on what makes a good leader, considering questions like this, When contemplating a great leader in your life, who is the first person to come to mind? What style of leadership do they practise? How relevant is empathy in leadership?
Some believe that compassionate leadership is the most effective style. People often have mixed reactions to this concept: they may see compassion as a fluffy word and not descriptive of a strong leader. Leading with compassion, however, is not just about being nice or kind to others. It is about being sincere, genuine, and authentic in your interactions with others. It's about inspiring others to want to work with and follow you.
Do Leaders with Compassion Make a Difference?
You bet they do! Leaders with advanced emotional intelligence are compassionate, acknowledge others' feelings, and address challenges while demonstrating genuine care. Their authenticity and empathy for their colleagues result in a highly motivated and committed workforce.
What's the Foundation for Emotionally Intelligent Leadership?
Fortunately, we can build and develop our emotional intelligence daily; as we mature and experience life, our emotional intelligence increases. I agree with Jack Welch when he states, "No doubt, emotional intelligence is rarer than book smarts, but my experience says it is actually more important in the making of a leader. You just can't ignore it."
A recent research study by psychologist Robert Levenson states our Emotional Quotient (EQ) will peak at the age of 60. The question is, do you want to wait that long? Being proactive and improving your emotional intelligence is worth investing in enhancing ongoing development. There are numerous ways we can focus on improving our EQ. One of the quickest ways is to learn your EQ score through an EQ assessment.
Five Key Strategies To Being A More Compassionate Leader
 Cultivate Empathy.
Lead by Example.
Encourage Open Communication.
Practice Active Listening.
Foster a Culture of Care: Implement policies and practices prioritizing employee well-being, work-life balance, and personal growth.
Learning to Lead with Compassion
Emotionally influential leaders practise compassion. There's no shortage of information and research on this topic. Through my work and study, I believe, as some others do, the best definition of compassion comes from Tibetan scholar Thupten Jimpa; he describes it as "The mental state endowed with a sense of concern for the suffering of others and the aspiration to see that suffering relieved." It has the following components:
Cognitive: "I understand you."
Affective: "I feel for you."
Motivational: "I want to help you."
Leadership is a journey requiring ongoing development, dedication, and a commitment to strive for excellence. Great leaders value relationships, demonstrate appreciation, give back to their community, and lead with compassion. If you want to strengthen your leadership skills, consider an EQ-I Leadership Assessment.
---
This article was originally published on March 7, 2020, and has been updated (July 2023).
---
More Motivational Reads Here »
---
Are you Emotionally Intelligent?
Sign up for Linda's monthly tips to build your Emotional Intelligence and reduce Emotional Hijacking!
---