If your goal is to lead a successful business, you must take care of your most valuable asset - your employees. Leaders who possess emotional intelligence know how to do that – with appreciation.
---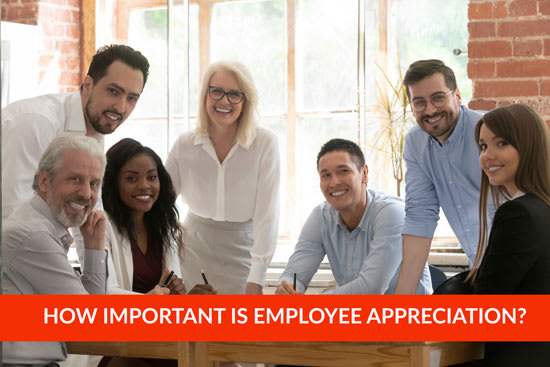 How important is it for employees to feel appreciated at work? The answer is, it's crucial!
Leaders practise specific emotional and social skills that impact the way they perceive and express themselves. This lets them effectively develop and maintain relationships and cope with everyday challenges. They believe in their employees and ensure they demonstrate their appreciation.
What do Leaders Do?
A leader's typical role is to support individuals and encourage them to work together to achieve a common goal. Strong leadership embodies emotional intelligence, inspires high-performance standards and mobilizes a commitment to an organization's mission, vision, and values. They are compassionate leaders and pay attention to their people by showing their appreciation. Additionally, they know the value of investing in their employees and focusing on team development. This conduct will enhance employee performance and overall organizational productivity, engage happy team members, and demonstrate their value to the organization.
Taking Care of Your People
Emotionally intelligent leaders make employee appreciation part of the work culture. They are empathetic, self-aware, able to self-regulate, highly motivated, and have impeccable social skills. They "walk the talk" and are great role models who respect others by showing an interest in them and their work.
Those with advanced emotional intelligence acknowledge the feelings of others and address challenges while demonstrating they genuinely care about the people they work with. Their authenticity and empathy for their colleagues result in a highly motivated and committed workforce. Leaders with these skills are highly influential and attract followers like bees to honey. Employees want to be associated with them and go above and beyond the call of duty to support them. When this connection is real, it corresponds with how the leader makes them feel, which most people never forget.
Simple Ways To Show Employee Appreciation
Keep them informed
Show the team you care
Practice humility
The bottom line is when employees feel appreciated and good about their relationship with the leader/organization, their motivation, commitment, and loyalty are clearly reflected in their work. Start today by reflecting on these skills and practise the ones that need to be developed one at a time. Connect with me for support to develop these skills; discover my consulting opportunities and emotional intelligence training.  
---
More Motivational Reads Here »
---
Are you Emotionally Intelligent?
Sign up for Linda's monthly tips to build your Emotional Intelligence and reduce Emotional Hijacking!
---