Our emotions can become a massive roadblock to our success in life if we don't manage them effectively. They control our thoughts and can undermine our decisions, becoming the obstacle in our way.
---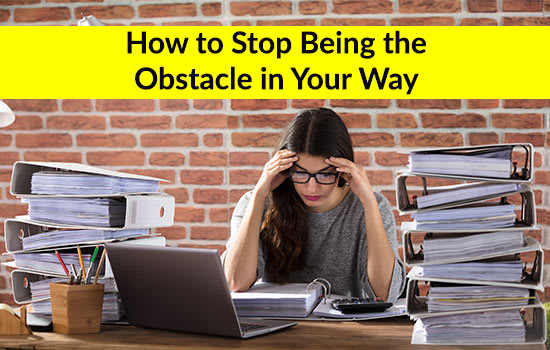 What competes with our thoughts…
Did you know you have approximately 50,000 thoughts per day, and there's a clear connection between what you think and feel, both physically and emotionally?
Regret, guilt, worry, anxiety are just a few thoughts that can regulate a substantial extent of your thinking and guide your emotions, which is not always healthy! They represent stagnant feelings that prevent us from moving forward like a vehicle spinning its wheels in a ditch.
Understanding the control our thoughts and emotions have over us…
Do you ever find what should be a simple decision isn't due to thoughts that challenge us? Thoughts like 'but what about that' or 'I feel so bad that I didn't' or 'what if'? These suggestions affect our judgement and steal our confidence.
If you could manage those thoughts, what would your message say? What would your next move be? What if your thinking was more confident, trusting your judgement and experience moving forward? It's frightening to comprehend the control our thoughts and emotions have over us. We need to protect ourselves by preventing them from controlling us. Instead, we need to manage them and trust in ourselves.
How can we manage our emotions?
Our emotional intelligence significantly influences how we manage our thoughts and feelings. Having the ability to recognize, understand and manage our emotions, and those of others will transform how we succeed personally and professionally.
It's all about becoming more self-aware to be able to control and be mindful of your thoughts and feelings. Take the time to practise the following:
Recognize and become familiar with your emotions as they occur.
Understand your emotions and appreciate the fact they send essential information.
Manage your emotions as they occur without allowing them to control your behaviour.
 You can strengthen your emotional intelligence immediately by trying my recommendations below.
Five simple tips for becoming more self-aware:
Strengthening your emotional intelligence will help you become skillful in managing your emotions and controlling your thoughts which in turn will reduce numerous obstacles along the way.
---
More Motivational Reads Here »
---
Are you Emotionally Intelligent?
Sign up for Linda's monthly tips to build your Emotional Intelligence and reduce Emotional Hijacking!