Life can be challenging and emotional at the best of times. Think about your best day over the last week – how much smiling and laughter played a part in that day? I bet it was significantly more than the other days, however, if you can't recall either one, that's definitely a red flag!
---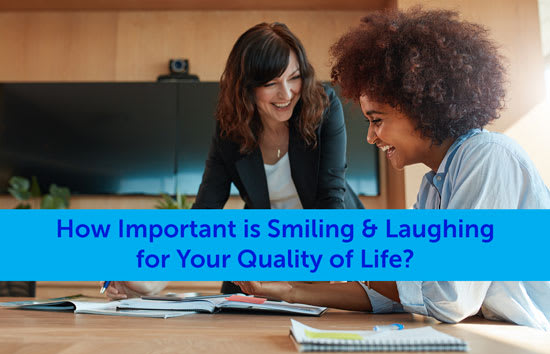 When was the last time you had a really good laugh that left a smile on your face? How did that make you feel? There's no question that smiling and laughing can instantly change your mood.
Believe it or not – a smile or laughter is a perfect distraction!
A smile or a quick laugh are some of the simplest self-management tools at your fingertips. Your smile can offset a negative emotional state and can even make you forget what you're upset about.
Laughing and smiling send signals to your brain conveying happiness. Once that occurs the thoughts your mind produces become more positive. By the time you remember the upsetting situation, your brain has a different point of view towards it.
You may find these suggestions effective when you need to be cheerful and engaging at your next interaction or meeting. 
You can control the quality of your life in just 6 seconds!
Did you know it only takes 6 seconds to redirect your brain? It's true! Next time your emotions are getting the best of you, take 6 seconds to breathe; trust me, you will experience positive results.
Keep in mind when you're in a challenging situation or feeling troubled, negative thoughts can actually inhibit you from making rational decisions and can reduce the patience required to work through it. Sometimes a simple distraction (i.e. taking 6 seconds) allows for a positive mindset to take control and for rational thoughts to emerge.
Rule your emotions; put your best foot forward!
"Always be in control of your emotions, so that your emotions don't manage you." – Linda Marshall, Author & President, Marshall Connects
We never want our emotions to rule us, instead, we want to manage them and ensure we're representing our professional selves. As we become more aware of our emotions we are better prepared to control our behaviour in challenging situations.
The 5 best reasons why you need to laugh more:
When it comes to laughing, inspirational blogger, Katie Gillespie suggests the following reasons you need to laugh more often:
Laughing relieves tension. Laughter relaxes the muscles in the body and eases stress, anxiety, and fear.
Laughing feels great. Laughing releases endorphins, the chemical in the body that makes you feel great. 
Laughter brings us together. Sharing a good laugh with others is a wonderful way to bond and have a good time in social situations. 
Laughter is healing. Laughter is an amazing source of both physical and emotional healing. Physically, laughter improves blood flow, deep breathing and boosts your immunity (not to mention, it strengthens those abs). Emotionally, finding the humor in even the most difficult things we face can be a powerful step to bringing some light to dark times. 
Laughter is beautiful. Laughter attracts others who like to laugh. Plus, aging lines from laughter are beautiful markers of a life well-lived.
Life is too short to allow negative moods to steal your joy. Learn to regulate your emotions and better manage them. Don't forget to smile and/or laugh the next time you are feeling down so you can project a positive message to yourself and others!
---
More Motivational Reads Here »
---
Are you Emotionally Intelligent?
Sign up for Linda's monthly tips to build your Emotional Intelligence and reduce Emotional Hijacking!