When it comes to change, are you someone who embraces or avoids it? With the new year upon us, it's an excellent opportunity to push yourself out of your comfort zone and accept that change is inevitable in life.  
---
Change is a part of life
Change is always happening around us, from our home and work life to the weather. That's why embracing change is paramount to overall happiness. If we realize that change is merely moving us in a forward motion, it becomes easier to accept. You wouldn't want to be moving backward, would you?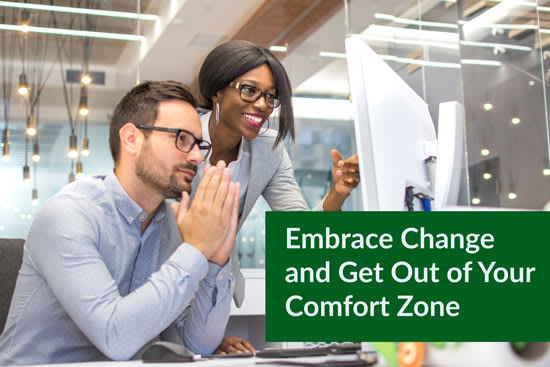 Seeing the positive in change
Those who enjoy change thrive on the excitement it brings into their life. They understand that new opportunities often have a positive impact on the trajectory of their life. Taking a risk and trying something out of your comfort zone will challenge you in many ways, all of which help you grow and evolve.  

Individuals with strong emotional intelligence know growth doesn't happen when they are comfortable. We can become stale and complacent when we just go through the motions of life.
9 helpful tips for embracing change
If change is difficult for you, I encourage you to seriously consider shaking up routines in your personal and professional life to challenge yourself to accept it. Learn to accept change by trying Criss Cuervo's helpful tips:
Embrace change, don't resist it, accept what is.
Make an active effort to see these changes with curiosity and adventure, change your negative perspective.
When thoughts or feelings of isolation appear, cultivate interdependence thoughts. Uncertainty tends to make us feel separate from others, and embracing interdependence can help us shift from feeling disconnected or isolated towards feeling part of a web of interdependence.
When your head starts worrying or anticipating the future, cultivate basic attention.
When doubt and fear arise, cultivate gratitude.
When doubt and uncertainty reign the mind, remember that there is no certainty, and everything changes.
Start to act out of kindness instead of avoidance and frustration.
Cultivate kindness and compassion in yourself and others.
Embracing change and uncertainty with a positive attitude and outlook fills your mind and intentions with a sense of adventure and curiosity.
Start today by reflecting on these suggestions and practise the ones you want to improve. Please connect with me if you would like support to develop these skills.
Being prepared and accepting change is just around the corner. Opportunities to embrace change will empower you to commit to it and improve your life.
---
More Motivational Reads Here »
---
Are you Emotionally Intelligent?
Sign up for Linda's monthly tips to build your Emotional Intelligence and reduce Emotional Hijacking!
---