Communication is vital to all relationships- it's often the missing link in every conflict and the key to every resolution. Learning your natural communication style is a game-changer.
---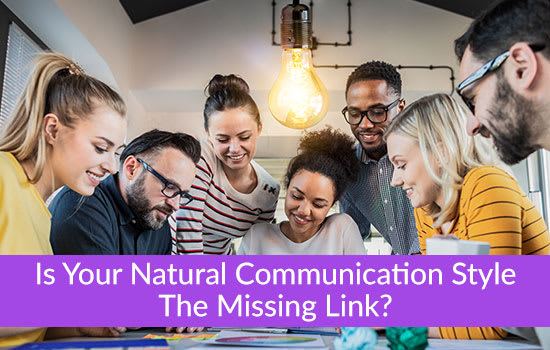 Use your natural communication to develop successful relationships.
Each of us has our very own communication style that shapes our relationships. When we communicate well, we build healthy relationships. So, it's definitely worth investing our time and energy to become familiar with our natural communication style.
Our temperament and personality guide the way we connect with others. Generally, we are either introverts or extroverts but can demonstrate both traits as needed; however, most of us revert to the most comfortable trait.
"Regardless of whether you are an introvert or extrovert, your natural communication style will shape your relationships"- Linda Marshall
Have you taken time to consider what your natural communication style is?
Think about your interactions with your family, friends, and colleagues. Step back and consider your communication style. Dr. Travis Bradberry recommends the following:
Ask yourself if your style is: direct or indirect/comfortable or serious/entertaining, chatty, curious/cool or intrusive.
Write down the positives of your natural style – these are things people appreciate about how you interact with them. 
Then write down the less positive attributes like when your style has created confusion, weird reactions or trouble.
When your list is complete, choose the three positive attributes that you can use more in your communication. 
Now consider the three less positive attributes and strategies you can either downplay or use less of and ultimately improve. 
Achieve astounding results through communication
The above exercise will help you become more aware of your natural communication style and those you interact with. As you become more in tune with your communication style, you will work more successfully with clients, colleagues, and family.
It goes without saying that the more effectively you communicate, the less conflict you will have and the stronger your relationships will be. If you would like to improve your self-awareness, a key component of emotional intelligence, consider taking a self-assessment to provide a personal analysis of your perception of your behaviour.
---
This article was originally published on July 28, 2018, and has been updated (June 2021).
---
More Motivational Reads Here »
---
Are you Emotionally Intelligent?
Sign up for Linda's monthly tips to build your Emotional Intelligence and reduce Emotional Hijacking!
---