There's a strong connection between what you think and how you feel, both physically and emotionally. Controlling emotions will boost positive self-talk and reduce negative feelings.
---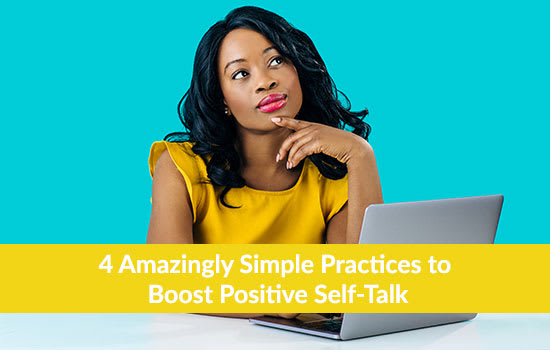 The average person has approximately 50,000 to 80,000 thoughts a day, and each time a thought occurs, our brain produces chemicals that trigger reactions that we feel throughout our body. Due to the repetitive way we think, we rarely realize how much our thoughts command our feelings.
Our Internal Voice – a.k.a. Self-Talk
Talking to yourself is an excellent tool that, when used properly, can boost self-confidence and lead you through the strongest of emotional storms. Like breathing, our brain dictates thoughts automatically, some so innocuous we don't give them much thought.

Our internal voice controls the perception of a situation and determines its importance. But those powerful thoughts–when we literally talk to ourselves, when we tell ourselves to keep quiet, speak up, or we praise ourselves when we do well and scold ourselves when we make poor choices–those are the ones we can affect.
When we can acknowledge the negative thoughts and concentrate on the positive ones, that's when we know we've conquered our most incapacitating emotions.
The Value in Keeping it Positive
When our self-talk is positive, it helps us flourish, keeping us motivated and productive. This practice avoids feeling defeated or derailed, helping to prevent us from descending into an emotional spiral. When we practise positive self-talk enforcement throughout the day, we can view any situation in a positive light and get the most out of it.

It's astonishing how much power we possess when we control our thoughts and emotions. Patience and practice are required to keep self-talk positive. Again, you have the power to control the way you express your thoughts and feelings to remain productive and motivated throughout your day. You must retrain your brain to use positive self-talk. When you catch yourself using negative self-talk, stop yourself and re-frame your words. Before you know it, you will be using more positive self-talk.
Regulating your Self-Talk
Our emotional flow is controlled primarily by our thoughts. When we aren't managing our thoughts, they can quickly become triggered, causing an emotional hijack that exaggerates or extends our emotional experience. To keep ourselves focused and in control of our emotions, we need to regulate our self-talk.

When our self-talk is positive, it helps us prosper during our day. When it becomes negative, it damages our ability to self-manage and can become unrealistic and self-defeating.
4 Ways to Retain Positive Self-Talk
When engaging in self-talk, change the words "always" or "never" to 'this time' or 'sometimes.'
Direct your thoughts to consider each situation as unique and separate from other situations.
Don't transfer one mistake to all circumstances, or you will make difficulties more extensive than they are.
Use factual statements like, "I made an error or mistake," instead of judgmental words like "I'm an idiot." We want to use accurate and objective statements to help us concentrate on what we can change.
When your emotions overwhelm you, your thoughts can turn the heat up or down, affecting how you manage your feelings. Learning to regulate your emotions will prevent negative feelings from overtaking positive self-talk. You can become more emotionally aware and strengthen your emotional intelligence by taking an EQ-i 2.0: Self-Assessment or Emotional Intelligence Coaching. Check out many more motivational blogs here.
---
This article was originally published on January 8, 2018, and has been updated (February 2021).
---
More Motivational Reads Here »
---
Are you Emotionally Intelligent?
Sign up for Linda's monthly tips to build your Emotional Intelligence and reduce Emotional Hijacking!
---