Conflict is part of our lives, and how we manage it dramatically impacts the strength of our relationships. Strong communication skills are essential to navigate challenging conversations effectively. 
---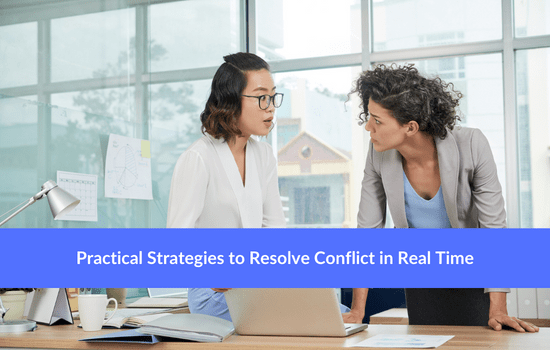 Understanding How to Resolve Conflict 
When conflict arises, you must carefully manage the situation as quickly as possible, regardless of who is at fault.
How Emotional Intelligence Supports Successful Relationships
Did you know your success in managing relationships correlates to your emotional intelligence? When we know our emotions and those of others, we can build and manage relationships more successfully while mitigating conflict.
The following three skills are core competencies of emotional intelligence:
Self-Awareness - We use our self-awareness skills to notice our feelings and judge if our needs are satisfied.
Self-Management - As we become more self-aware, we use our self-management skills to express our feelings and act accordingly to benefit our relationships.
Social Awareness - Social awareness skills help us understand other people's needs and feelings.
We can manage social situations and develop strong relationships once we know ourselves through these emotional intelligence competencies.
Repair Conflict in Real Time
Here's the thing, when communication breaks down, the quicker you resolve the conflict, the easier it will be to repair the relationship. You never want to leave a broken or conflicted conversation without fixing it, whenever possible. Undeniably, it's far more effective to resolve a situation when you're face-to-face in the moment rather than afterward when one or both individuals are simmering over the conflict.
Embrace Conflict Resolution by Getting out of Your Comfort Zone
Recently, a client shared that he struggled to manage conflicts with colleagues. He stated how difficult it was to develop the confidence to move past and resolve a conflict-inducing conversation. He instinctively wanted to escape the dispute as quickly as possible rather than face his combatant while trying to repair the situation. He, like many, found it easier to walk away from the stress caused by conflict. However, he learned over time that it served him much better to embrace the situation and get out of his comfort zone to fix the conflict as it occurred.
It's encouraging to know that being open to change and trying something out of the ordinary can often make life easier!
Five Ways to Resolve a Conversation Ending in Conflict
The following strategies will support resolving a broken conversation or conflict to maintain and nurture relationships:
Self-manage to get your emotions under control.
Consider what you are contributing to the conflict.
 Regardless of who is responsible for the conflict, you must let it go to move forward!
Focus on what you need to say or do to repair the communication or situation.
Work toward a common ground by calmly and empathetically asking how the person you're interacting with is feeling or share how difficult you are finding the conversation.
It is best practice to act instead of retreating when you are in conflict or have a difficult conversation. Utilizing these strategies will support and rebuild communication to preserve the relationship. If you're interested in support for you or your team to develop these skills, please check out my consulting opportunities and emotional intelligence training.
---
This article was originally published on August 10, 2019, and has been updated (June 2023).
---
More Motivational Reads Here »
---
Are you Emotionally Intelligent?
Sign up for Linda's monthly tips to build your Emotional Intelligence and reduce Emotional Hijacking!
---