Effective Communication skills are essential to all relationships and start with emotional intelligence. We must learn to navigate conflict, including challenging conversations.
---
Fixing Communication Breakdowns: Quick and Easy Tactics for Restoring Dialogue
When conflict arises during a conversation, you must take care of the situation as quickly as possible, regardless of who is at fault.
How To Maintain Successful Relationships?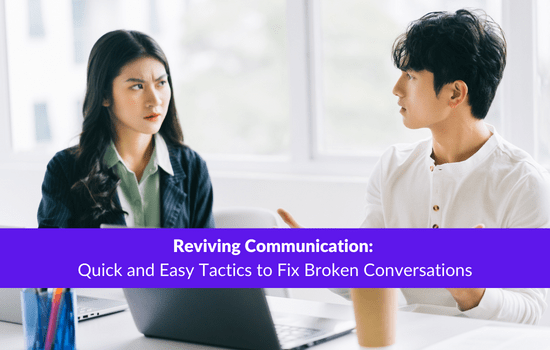 Your success in managing relationships correlates directly to your self-awareness, self-management and social awareness. All three are components of emotional intelligence and need to be developed to build and maintain relationships. Once you learn to manage your emotions and those of others, you will have the communication skills to manage relationships successfully.
Maintaining successful relationships requires effort, communication, and understanding. Here are some tips to help you strengthen your emotional intelligence and foster healthy and thriving connections with others:
Always be open and honest with others, and actively listen to their thoughts and feelings. Respect each other's perspectives and be willing to compromise when necessary.
Express gratitude and acknowledge the efforts your colleague makes. A simple "thank you" can go a long way in making someone feel valued and appreciated.
Make time for meaningful interactions. Quality time strengthens emotional bonds.
Try to see things from the other person's point of view and be empathetic toward their feelings and experiences to build trust and emotional connection.
Remember that disagreements are natural in any relationship. When conflicts arise, address them calmly, respectfully, and with a focus on finding solutions rather than winning arguments.
Mistakes happen, and forgiveness is crucial for the health of any relationship. Holding grudges can erode trust and positivity.
The Importance Of Repairing Conflicts In Real-Time.
Here's the thing, when communication breaks down, the quicker you resolve the situation as it occurs, the more success you will have with that relationship moving forward. You never want to leave a broken conversation without repairing it, if possible. It's far easier to resolve something when you're face-to-face at the moment rather than afterward when one or both individuals are simmering over the conflict for any length of time.
Get Out Of Your Comfort Zone By Embracing Conflict Resolution.
Recently, a client shared how difficult it was to develop the confidence to continue following a conflict-inducing conversation. He instinctively wanted to escape the conflict as quickly as possible rather than trying to repair the situation at that moment. I understand the feeling of removing yourself from an uncomfortable position immediately. Sometimes, that is a good strategy when individuals aren't in control of their emotions, but most often, I recommend fighting the urge to walk away, stay, and calmly listen and respond.
My client fought the urge to escape the situation and learned that it served him much better to embrace the problem and get out of his comfort zone and fix the conflict as it occurred. This experience enhanced his confidence and strengthened his relationship with his colleague and his emotional intelligence.
Five Simple Tips To Resolve A Conversation Ending In Conflict:
Here are some strategies that will assist with rebuilding broken conversations or resolving conflicts to maintain and nurture relationships in your personal and professional lives.
Self-manage to get your emotions under control.
Consider what you are contributing to the conflict.
Forget about who is responsible for the conflict – let it go!
Focus on what you need to say to repair the communication or situation.
Work toward common ground by calmly and empathetically asking how the person you're interacting with feels or sharing how difficult the conversation is.
I would encourage you to use the strategies in conflict to build communication and maintain the relationship. If you would like support, please check out my consulting opportunities and emotional intelligence training if you or your team would like assistance building these strategies. Or you can get a copy of my book, The Power of Emotion, another opportunity to learn more about your emotional intelligence.
---
This article was originally published on March 16, 2019, and has been updated (July 2023).
---
More Motivational Reads Here »
---
How Emotionally Intelligent Are You?
Sign up for Linda's monthly tips to build your Emotional Intelligence and reduce Emotional Hijacking!
---