Strong communication skills are essential to all relationships, which is why we need to navigate conflict including challenging conversations. 
---
When conflict arises during a conversation it's vital you mitigate the situation as quickly as possible regardless of who is at fault.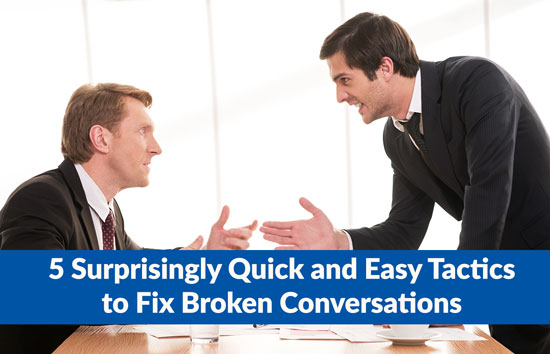 How does one maintain successful relationships?
Your success in managing relationships is directly correlated to your ability to be self-aware, self-manage and be socially aware. All three of these are components of emotional intelligence and are something that needs to be developed. If you have the capability to both be aware of your emotions and those of others, you will be better suited to manage relationships successfully.
The importance of repairing conflicts in real time.
Here's the thing, when communication breaks down, the quicker you resolve it in real time, the greater success you will have with that relationship moving forward. You never want to leave a broken conversation without repairing it. It's far easier to resolve something when you're face-to-face at the moment, rather than afterward when one or both individuals are simmering over the conflict for any length of time.
Get out of your comfort zone by embracing conflict resolution.
Recently, a client shared how difficult it was to develop the necessary confidence to continue following a conflict-inducing conversation. He instinctively wanted to escape the conflict as quickly as possible, rather than trying to repair the situation at that moment. However, he learned that it served him much better to embrace the situation and get out of his comfort zone and fix the conflict as it occurs.
5 simple tips to resolve a conversation ending in conflict:
The following strategies will assist with rebuilding broken conversation or resolving conflicts to maintain and nurture relationships in your personal and professional lives.
Self-manage to get your emotions under control.
Consider what you are contributing to the conflict.
Forget about who is responsible for the conflict – let it go!
Focus on what you need to say to repair the communication or situation.
Work toward common ground by calmly and empathetically asking how the person you're interacting with is feeling or share how difficult you are finding the conversation.
Ideally, you should take action immediately when you find yourself in a difficult conversation.
Utilize the strategies provided to rebuild communication and preserve the relationship. If you would like support please check out my consulting opportunities and emotional intelligence training if you or your team would like assistance building these strategies. 
---
More Motivational Reads Here »
---
Are you Emotionally Intelligent?
Sign up for Linda's monthly tips to build your Emotional Intelligence and reduce Emotional Hijacking!