You know that voice in your head, it's called "self-talk" and plays a significant role in how you feel about yourself. It's a natural tool that when used properly can boost self-confidence and decrease negative emotions.
---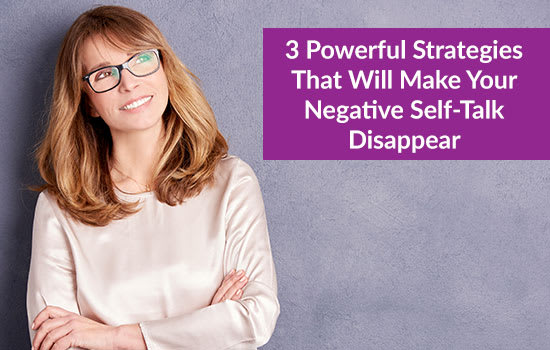 Our internal voice 
There's a strong relationship between what you think and how you feel, both physically and emotionally. Our most powerful thoughts occur when we literally talk to ourselves; our internal voice controls how we perceive things.  We talk to ourselves either to tell ourselves to keep quiet or speak up, to praise ourselves when we do well or to scold ourselves when we make poor choices.

Interestingly, we typically don't realize the impact our self-talk has on our feelings and emotions because we're continuously thinking in the same manner that we breathe! Consequently, it is imperative we manage our self-talk, ensuring negativity doesn't take over our emotions.
Understanding the need to regulate your self-talk
Our emotional flow is controlled primarily by our thoughts so what we allow ourselves to think can hijack our emotions by bringing them to our full attention or pushing them into hiding, which can then exaggerate or extend our emotional experience.  You must learn to regulate your self-talk to keep yourself focused and in control of your emotions.
The value in keeping it positive
When our self-talk is positive, it helps us flourish, keeping us motivated and productive. When it is negative, it affects our ability to self-manage effectively and can create feelings of defeat. Negative self-talk can derail us and plunge us into a descending emotional spiral. If we practice using positive self-talk throughout our day we can view any situation in a positive light and get the most out of it.
Again, you have the power to control the way you express your thoughts and feelings to remain productive and motivated throughout your day. It will take practice so when you catch yourself practicing negative self-talk, stop yourself and re-frame your words. Before you know it, you will be using less negative self-talk and more positive self-talk. 
Three ways to overcome negative self-talk
When engaging in self-talk, change the words "always" or "never" to 'this time' or 'sometimes'.
It's important to direct your thoughts to consider situations as unique and separate from other situations. Don't transfer one mistake to all situations or you will make your problems larger than they are.
Use factual statements like, "I made an error or mistake," instead of judgmental statements like "I'm an idiot". We want to use statements that are accurate and objective and will help us concentrate on what we can change.
When your emotions overwhelm you, your thoughts can turn the heat up or down which has an effect on how you manage your emotions. Don't let negative self-talk bring you down, control your thoughts and keep them positive. Marshall Connects offers Emotional Intelligence Assessments and Coaching to enhance skill development in all areas including self-management strategies like positive self-talk to enhance overall productivity.
---
More Motivational Reads Here »
---
Are you Emotionally Intelligent?
Sign up for Linda's monthly tips to build your Emotional Intelligence and reduce Emotional Hijacking!