The journey towards excellence can be challenging, but you'll progress and reap the rewards in life if you make an effort to develop self-awareness habits that allow you to be your very best.
---
Do you practice excellence in your work and personal life? Excellence is a way of life that requires self-awareness, focus, passion, and energy.
Ask yourself if it's helping or hurting your momentum.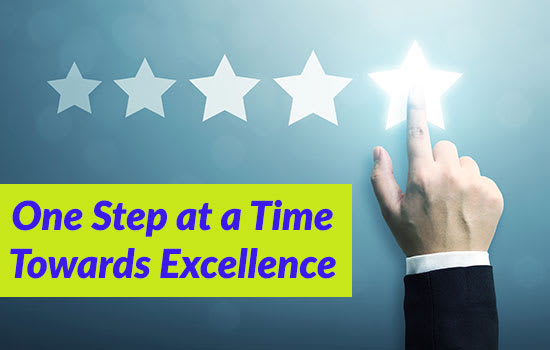 "Excellence is an art won by training and habituation," Aristotle wrote. In other words, when we do the right things, we can achieve the virtue of excellence, and it then becomes a habit. We must place a sharp focus on the things that are the most important to us in life. Something may bring you joy, but you must ask yourself if it's helping or hurting your momentum.

The pursuit of excellence can be a rocky road if you're living what I refer to as a "drive-by life."  I am guilty of trying to cram too much into each day.  "I hear you say two things," a longtime friend told me recently. "Sometimes, you're saying you love it all, and sometimes you're saying it's too much."

When we spread ourselves too thin, we may not be performing at our best, and that means we are not making progress towards our goal: Excellence.
 Our lives are a work in progress.
Life is about making lists and then making choices. Living a life of excellence requires both self-awareness and self-reflection, and then some winnowing of priorities.

Excellence does not mean perfection. We all make mistakes and take the odd wrong turn on our life's journey. But if we pause long enough each day to prioritize what's important to us, we've cleared the path ahead for progress and the next steps toward excellence.
Here are a few questions to consider before you embark on your journey:
Are you passionate about a life of excellence?
Is practicing self-awareness part of your life's journey to excellence?
Do you have an inspiring goal?
Have you developed a realistic strategy to support your progress?
Will you continue to the end without giving up?
Do you intend to ask others to support your progress along the way?
Considering these questions will increase your overall self-awareness and help you progress on your journey to excellence in life.
---
This article was originally published on March 31, 2018, and has been updated (November 2020).
---
More Motivational Reads Here »
---
Are you Emotionally Intelligent?
Sign up for Linda's monthly tips to build your Emotional Intelligence and reduce Emotional Hijacking!
---