As we approach a new year with COVID-19, consider these resolutions to help you reach success and your goals in 2021. Make this your best year yet!
---
Back in 2017, I talked about some ideas for New Year's resolutions and how to make your most successful year ever. As we approach 2021, I wanted to update this information with the same goal in mind.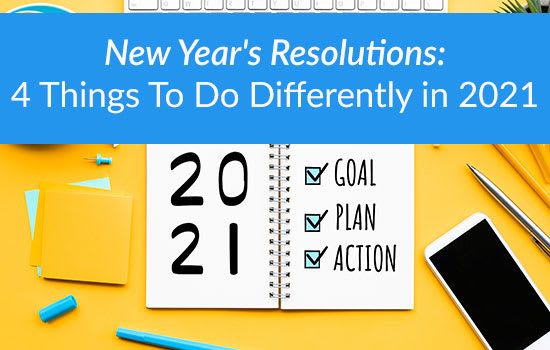 So, as we wave farewell to 2021, let's take some time to reflect on this unprecedented past year with COVID-19.  Keeping in mind that COVID-19 is following us into the new year, I want to share some things you can do differently to ensure your success in 2021.
Our New Year's Resolutions for 2021
When it comes to the new year, our goals are simple - be more productive and make a difference. Don't allow COVID-19 to affect your goals or performance. We now have experience working under new conditions to work and stay safe. No excuses; use this knowledge to meet your resolutions.

Here are some suggestions that you may want to add to your New Year's Resolutions — they can make a significant difference in your life.
#1 Finding clarity is vital.
Knowing what you want in life is essential. Be sure to consider what is going well and what you need to find success. Be deliberate about defining your wants and needs and know the difference between them. Take the time to reflect on what truly makes you happy!

This exercise is a mindfulness practice that can be a game-changer to your overall success. Mindfulness is one of the most important aspects of a full life.
#2 Self-awareness is necessary.
As I highlight in my presentations and coaching sessions, strong self-awareness is necessary for success. A lack of it will limit your potential. Self-awareness helps you understand your strengths and areas of development and provides insight into thoughts, beliefs, emotions, and motivation. Being aware of our emotions and learning ways to manage them will make a tremendous difference in our interactions with others and, our overall success in life.

While we're on the topic of self-awareness, I'd like to direct you to this post where I discuss five valuable ways to strengthen your self-awareness.
#3 Exercise self-compassion often.
Self-compassion is about extending compassion to oneself in perceived inadequacy, failure, or general suffering.

It's about taking care of yourself and knowing you're enough.

So often, we attempt to reinvent ourselves at the beginning of the New Year. We're hardwired to focus on the negative, the things we don't do well. We need to learn to be gentle with ourselves and train our brains to focus on the positive.

Our performance is not enhanced when we are self-critical. Regular practice of self-compassion and self-care, especially during COVID-19 can reduce stress and help us move forward more positively.

Here are posts to assist one to improve self-compassion and self-care. 
#4 Celebrate achievements along the way.
While being focused on achieving our goals is essential to success, celebrating the small achievements along the way is critical. Regardless of the challenges COVID-19 presents, continue to focus on the positive of even your smallest accomplishments.

There are numerous ways to keep success in the top drawer of our minds, including using visual reminders, making your goals public, and highlighting small achievements in a journal. By leveraging our strengths, we'll enhance our overall development and be in a growth mindset to celebrate each small step we take toward our goal of becoming more effective and making a difference.

Here is a post about your powerful mindset.
An Extra New Year's Resolution
Before we go, I'd like to give you a bonus goal to consider: The next time you're in a situation that's outside your comfort zone, consider being flexible and opening your mind to learning something valuable. Often, this is where we can understand our most powerful life lessons. Find out more about learning from everyone (and everything) you encounter here.

Now, try writing down your own New Year's resolution. After all, writing down your goals for 2021 will increase your success! Let's start (or continue) to shine a spotlight on our strengths in the New Year and avoid negativity to ensure you reach your goals in 2021!
Would you like one-on-one guidance with reaching all of your goals in 2021, including self-development, team building, employee relationships, and more? Click here.
---
This article was originally published on December 30, 2017, and has been updated (January 2021).
---
More Motivational Reads Here »
---
Are you Emotionally Intelligent?
Sign up for Linda's monthly tips to build your Emotional Intelligence and reduce Emotional Hijacking!
---