One of the biggest factors in reaching your goals is how closely they are aligned with your values - so this is an important checkpoint.
---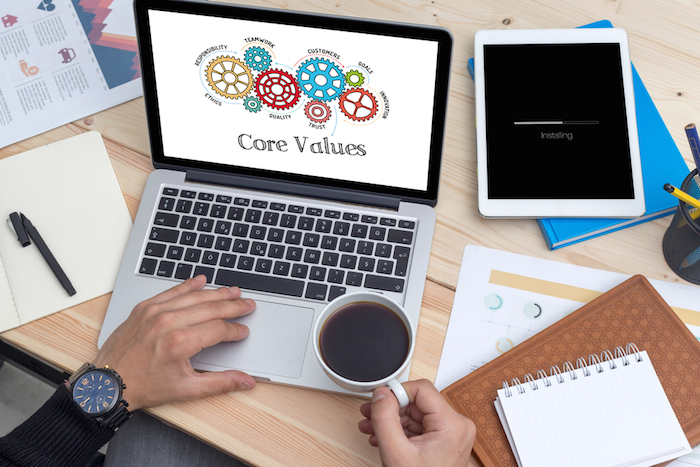 We're three weeks into the New Year and hopefully, we're still taking some time to reflect on new beginnings, new goals, and our New Year's resolutions. Many of us had some time off over the holidays to reflect on our goals and what we value in our lives. This year I decided to do just that and begin 2017 with a physical and mental rest to start the year out more reflectively and take the time to contemplate my values and goals. So I went on a cruise to practice my self-awareness skills, the core of emotional intelligence and what I frequently speak and consult with others about.
What are your values?
I'm not referring to integrity or honesty – because those are ones that would be on most of our lists and are expected values that hopefully we all want to possess. What values are important to YOU. Values; a person's principles or standards of behavior; what is important in life to YOU? Is it connection, loyalty, time management, structure, relationships? Often times when we're frustrated with our life it's due to a misalignment of our values. We may have the goal of networking more both for business or personal. We set out 6 events in two weeks but somehow we feel frustrated, but why? You set the goal and you did it, however, if your value is in connecting with people and you simply went to the networking events like a robot then your value of connection was missing. Paying attention to what your values are will help you get what you need alongside the actual goal itself.
Do your professional values align with your employer?
At the start of every company, there is a mission, vision and values statement. A lot of time is devoted to this statement and as the company grows they revisit this and as they hire on they hope to hire employees whose own professional values align with that of the companies. When I consult with corporate teams one of the first things we do is talk about the company's values and their own values. Our jobs are a huge part of our life and no matter what role you play at work it no doubt plays a part in the big picture. You want the best of your to come out and to be the most effective you can be in both our personal and professional life.
You may want to consider your values a little more carefully. Chris Akins, Registered Psychotherapist suggests two of the following tests:
"First, sit down with your list of values, then go through each value and write down the criteria for that value. Odds are, if you cannot write down several criteria for any particular value, you have not really defined what that value means to you. And if you have not defined the value, you probably have not internalized it. And a value that is not internalized is not really a value that you own for yourself.

Second, after you have really defined your values, reflect on how well you actually keep them. If you say you value family, but your efforts are mostly focused towards work, there may be cause to reconsider how strongly you hold the family value. In other words, the more strongly your behavior reflects the values you want to hold, the more strongly you actually hold those values."
These recommendations were useful to me during my time away but I really had to prepare myself. For many, at the beginning of a vacation, it takes a few days to actually unwind and begin to rest and relax. Even while on vacation I have to focus on not scheduling too many things into my days or I'm back on life's treadmill and not able to really give my mind and body a rest. Near the end of our trip late one afternoon as I sat looking at the sunset over the ocean I began to really look at what is important to me and really review my values. Approximately three years ago I did this same thing and as I looked at my past, present and how my values lined up with my future I realized I needed to make some major changes in my life. So I did! I retired from a 32-year career that I genuinely loved and began something new in hopes to align my life with my values going forward.
As I sat relaxing on a lounge chair calmly floating at sea I looked into the absolute beauty of the sunset and began to reflect on the journey that I've taken over the last few years. I took Chris Akins' advice and made a list of my values, the things that were important to me in my life and began to connect the dots to ensure that everything was aligned. It's so important to stop and take a good look at yourself. Take time to visit your values along the way because when your values match your actions the quality of your life is sure to be more rewarding and fulfilling.
---