How often do you confide in someone seeking feedback when you feel a negative emotion taking over? Venting about a situation you find challenging and emotional can provide great relief if you select the right person.  
---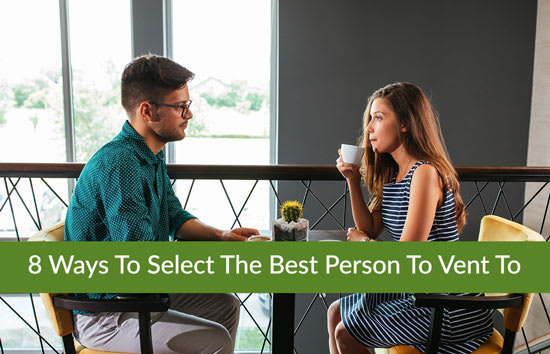 Finding a balance when it comes to venting
As much as we all need to vent, it's a good idea to evaluate how much time we spend venting and how much of that is actually moving us towards a solution, instead of reinforcing an unproductive habit. Psychology professor, Dr. Brad Bushman determined from his 2001 study that venting to reduce anger is like using gasoline to put out a fire—it only feeds the flame. By fueling aggressive thoughts and feelings, venting also increases aggressive responding.
Strategically select who you ask for feedback
One strategic way to move forward is to speak with someone who is not emotionally invested in your conflict. For example, if you're having an issue with a team member at work, it's best to not talk to other colleagues whether they're directly involved in the project or not, because they're emotionally tied to the same work you're doing in one way or another. Their feedback may be biased if they are connected to personal opinion rather than an external objective view.
Avoid selecting an individual you know will agree with you regardless of whether you're right or not. Yes, It's easy to do because often the first person who comes to mind is someone you like and who likes you. Don't be afraid to ask someone who you don't always agree with for their feedback, as often, these individuals can be the most objective advisors.
8 Tips in Finding the Best Person to Confide In
Did you select this person for the right reasons?
Will they provide you with unbiased feedback?
Do they have 3-5 years more experience in your field or are they a trusted family member that may have similar experiences they can draw on?
Do you feel comfortable speaking with them?
Do they care about you?
Do you trust them?
Are they a good listener?
Do you consider them to be a rational thinker?
Selecting the right person to confide in is a helpful strategy to ensure you're venting with the purpose of moving toward a solution. Asking someone too close to the situation for feedback will only allow your emotions to manage you and extend the venting process. If you're interested in learning how to implement these skills or others, please review my consulting opportunities and emotional intelligence training.
---
More Motivational Reads Here »
---
Are you Emotionally Intelligent?
Sign up for Linda's monthly tips to build your Emotional Intelligence and reduce Emotional Hijacking!