Most will agree if we want to make this world a better place, we need to develop children's social and emotional intelligence. This goal is especially true considering the vital role emotions play in managing relationships.
---
Children's Emotional Intelligence is a Learned Skill We Can Teach
This post will outline the benefits of teaching children emotional intelligence and resources that will help you accomplish this goal. If we want to create well-rounded children, parents and family members need to instill social and emotional intelligence into their children's upbringing.
I believe one of the greatest gifts we can give children is to provide them with skills that will assist them in developing strong social and emotional intelligence.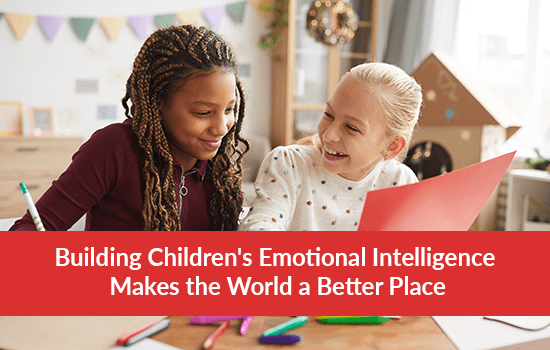 Creating Well-Rounded Children
Brain plasticity is a common term used by neuroscientists, referring to the brain's ability to change at any age. The exciting news is our brain is highly malleable and allows us to retrain ourselves or train our children from the start. Primarily, the earlier we educate our children to recognize and harness their emotions, the quicker they can develop their social skills and build successful relationships.

(Just how important is social and emotional intelligence to children's development and relationship building? Find the answers in this post)
Talking about our emotions with family helps!
How often do you talk about emotions with your family? Most would answer, "not too often!" Emotions send us vital messages and guide all we do, so we must understand and learn to accept them. Developing and strengthening your emotional intelligence is not is easy. However, it is possible. You can help your child develop their emotional intelligence by becoming their emotional coach.
(Speaking of emotional coaching, this article tells you how to be the emotional coach your child needs to succeed)
Children need to develop both their IQ and EQ.
Fostering children's intellectual development is very important; however, equally important is emotional intelligence. Children need to learn how to become aware of their emotions and regulate them to have successful relationships in life. Ultimately, how children get along with other children will determine how they succeed in life.
(Don't miss this post next where you can read more about what makes children's emotional intelligence a game-changer for their success in life)
Emotional hijacking happens to all of us.
 We all have experienced emotional hijacking at some point. Whether we lose control of our emotions or a child does, we must acknowledge, recognize and understand our emotions. In doing this, we build strong social and emotional intelligence skills. When our emotions get hijacked, it's essential to take the time to discuss it as a family, as this helps put things into perspective.
(Take a look at this post next to learn more about different ways to take control of an emotional hijacking)
Building Children's Emotional Intelligence Leads to Their Success
The bottom line is that we always want to control our emotions instead of our emotions controlling us. Parents who coach and develop their children's emotional intelligence will undoubtedly prepare them for success in life.
Get started today—you won't regret it. Be sure to check out many more motivational blogs here. If you would like help with supporting children's emotional intelligence, check this out.
---
This article was originally published on February 16, 2019, and has been updated (March 2022).
---
More Motivational Reads Here »
---
Are you Emotionally Intelligent?
Sign up for Linda's monthly tips to build your Emotional Intelligence and reduce Emotional Hijacking!
---