Children are our future, so we must provide the best possible opportunities for a successful life when raising them. Instilling emotional intelligence skills in your child will open the door to numerous possibilities and help them thrive.
---
The Importance of Raising Children with Emotional Intelligence
How do we prepare our children to thrive in today's world?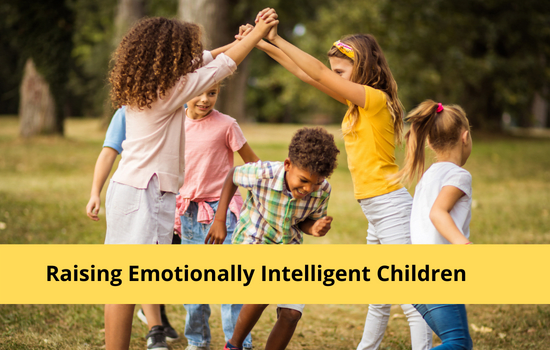 As parents, we strive to educate and prepare our children to thrive in this challenging world. We aim to raise our children to be successful and help them develop to be their best.
Many see that as their sole responsibility once they bring a child into this world. They want to provide the best of everything for our children, which is increasingly challenging in a constantly changing world.
What if I told you there's a critical skill you can teach your child that will result in greater success? Emotional intelligence is a game-changer. And guess what? It's up to you to build their emotional intelligence into their upbringing—it's a learned skill. Yes, you can develop emotional intelligence in your child.
Emotional intelligence skills are not part of your child's curriculum. 
Parents and caregivers must take on this responsibility because most of these skills aren't taught in school and should be a crucial part of their daily curriculum. 
Developing a child's intellect (IQ) is essential, but intelligence alone isn't enough, especially with the complex social landscape of today's world. We must build social skills, which are part of emotional intelligence.
Coaching children through emotionally challenging situations is ideal. Acting as an emotional coach supports them by understanding their feelings and helping them problem-solve. 
The greatest gift you can give your children.
I believe the greatest gift we can give children is to provide them with skills that will help them develop strong social and emotional intelligence. 
Providing our children with these essential skills will positively change their lives–it truly is a game-changer! 
You can become the emotional coach your child needs to succeed. Click here for specific steps for accomplishing this goal.
Emotional Intelligence (EI) is equally as important as IQ. 
Never underestimate the power of emotion!
I write about it in my book, The Power of Emotion, and Author John Gottman explains;
"In the last decade or so, science has discovered a tremendous amount about the role emotions play in our lives. Researchers have found that even more than IQ, your emotional awareness and abilities to handle feelings will determine your success and happiness in all walks of life, including family relationships."
Emotional intelligence will be the key to their success when educating your children about harnessing their emotions and developing their social abilities.
Children need to become aware of their emotions to have successful relationships.
Fostering children's intellectual skills is very important for a successful life, but children need to learn how to become aware of their emotions and regulate them to have successful relationships. 
Ultimately, how children get along with other children can determine their success. How children manage socially depends on the interrelationship between parents and their children. Developing friendships is a big part of family and community life and is integral to a child's development.
Allowing your children to experience their emotions starts at home.
In general, children feel most comfortable in their home environment and will naturally act out at home. 
We behave in ways with our family that most of us would never share with friends or colleagues. This can be a challenge if children observe socially unacceptable adult behaviours. 
The best place to teach children who are acting out is in their homes, where their family, who loves them unconditionally, can provide support and guidance. Home is the perfect venue to teach them how to assess and regulate their feelings in their early years. 
You can teach your children to assess the physical effects of their emotions. I've written more about that here. 
Working through these feelings and emotions is also a form of problem-solving, a skill that will benefit your child throughout their life. Don't miss this post if you want to learn more about the life-changing power of daily problem-solving.
Children with high emotional intelligence are better able to learn, problem-solve, and develop positive social relationships. 
Author John Gottman elaborates on this point:
"A child with a high emotional IQ is better able to cope with his feelings, can bring himself down from emotional high-wire acts, understands and relates well with others, and can form strong friendships more easily than a child with a lower emotional IQ."
Raising emotionally intelligent children starts with you, and it's a gift you can give your child that will benefit them for their entire life. 
Did you like this post? If you'd like to see more like this, have a look at these articles:
4 Ways to Assess Physical Effects of Your Emotions
4 Surprising Reasons to Lean Into Discomfort
The Life-Changing Power of Daily Problem Solving
To raise emotionally intelligent children, you'll also want to nurture this skill in yourself. We offer customized Emotional Intelligence training both in-person and online. If you are interested in these services, contact us today!
---
This article was originally published on May 20, 2017, and has been updated (May 2023).
---
More Motivational Reads Here »
---
How Emotionally Intelligent Are You?
Sign up for Linda's monthly tips to build your Emotional Intelligence and reduce Emotional Hijacking!
---