Emotional Intelligence is about recognizing, understanding and managing your feelings and those of others, this Family Day I challenge you to recognize and discuss your emotions with your family.
---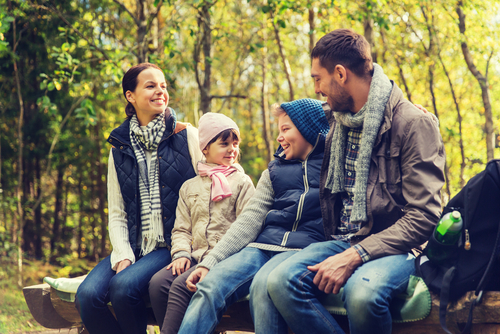 After a presentation, I'm often asked if Emotional Intelligence skills can be taught to children. YES, Emotional Intelligence can be taught to children – you simply need to introduce them to the topic at their developmental level, lead by example and have an open discussion on its impact.
The value in teaching your child Emotional Intelligence skills
As adults, many have difficulty with this because we weren't taught how to do it when we were younger, and sadly, for most, it wasn't and still isn't part of our school's mainstream curriculum.  For this reason, we create habits that often stifle our method of communication and block us from understanding our own emotions, let alone those of others.
A Family Day Emotional Intelligence Challenge
Since Family Day has just passed, a day focused on celebrating and enjoying family, I suggest a family challenge. I invite you to think of ways you can enhance your understanding of each other's feelings. Having a conversation about how challenging and essential getting to know your emotions is starts the ball rolling.
You may begin the conversation by asking everyone to share a time when they were 'emotionally hijacked.' An emotional hijack is an overpowering emotional response triggered by a situation that takes over your emotions and controls your behaviour. Frequently, it's an explosion of feelings that appear to come from nowhere.
Do You Recognize This Scenario?
Your child is studying for an exam, and you abruptly say, "Your room is a mess; when are you going to clean it up?!" Your child explodes in response, saying, "Get off my back!! Can't you see I'm busy studying? I'll do it when I have time!" It's important to reflect here; think about how much studying your child has done all week, which adds a ton of additional stress – handling one more thing isn't an option now. Unfortunately, the result of the child's extreme emotional outburst is damaging to everyone involved.  The individual can experience an "emotional hijack hangover," lasting up to four hours afterward, negatively impacting everyone's day.
How To Avoid Those Scenarios
The good news is that we CAN control these types of outbursts if provided with the tools. When you're feeling stressed and overwhelmed, learn to read your body and recognize the potential triggers. You may try taking a deep breath and/or count to ten under your breath  – all of which will redirect your brain and defuse the situation before a hijacking occurs.
We all have experienced emotional hijacking and taking the opportunity to talk about it as a family helps put things into perspective. If we work to recognize and understand our emotions and practice ways to manage them in the future, we are on the best path to building strong Emotional Intelligence skills.  The bottom line is we always want to be in control of our emotions instead of our emotions controlling us.
Parents who coach and support their children's emotional development will undoubtedly prepare them for success in life.  For more information about the value of emotional intelligence, check out some of these brief blogs.
---