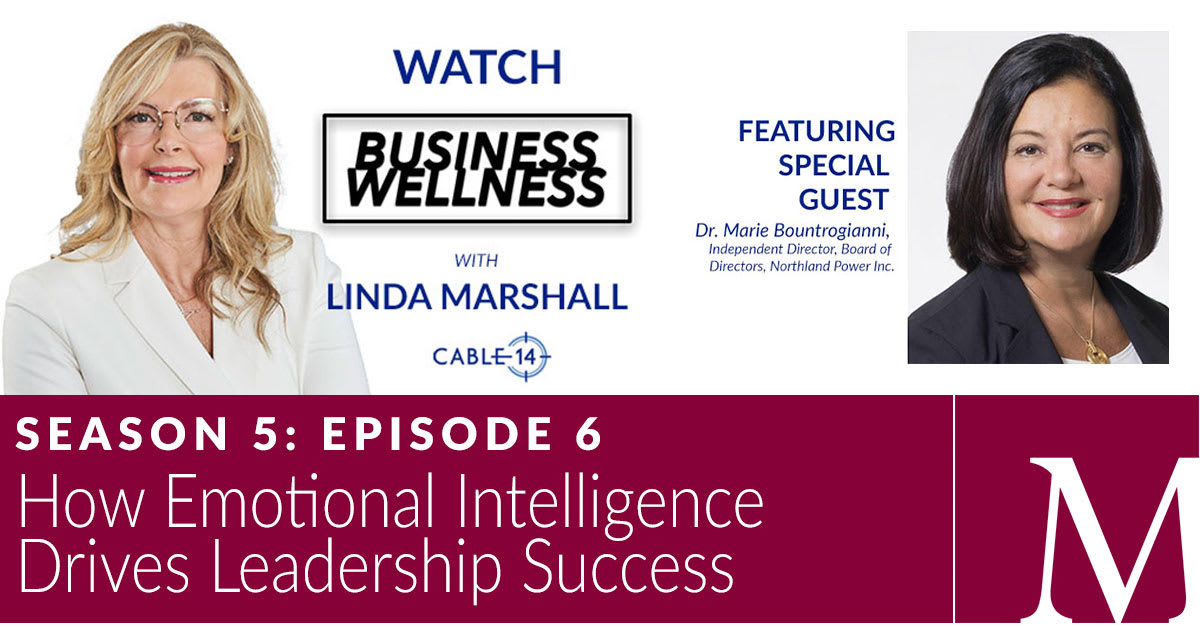 Host Linda Marshall invites her guest, Dr. Marie Bountrogianni to discuss how emotional intelligence drives leadership success in Episode 6, Season 5 of Business Wellness in Hamilton. 
---
Business Wellness in Hamilton | Episode 6, Season 5
Emotional intelligence (EI) drives leadership success. Leaders with high emotional intelligence engage specific emotional and social skills to impact how they perceive and express themselves, develop and maintain relationships, and cope with everyday challenges.

Leaders with advanced emotional intelligence are aware of their surroundings and show empathy and compassion. Acknowledging others' feelings and addressing their needs demonstrates high social awareness, signalling they genuinely care about others. They lead with compassion and relate and interact with others authentically.

Humility is another essential leadership skill. Employees want to support humble and vulnerable leaders they can relate to and trust. When leaders can apologize and admit they don't have all the answers, it is easier for employees to follow, support, and engage with them. Influential leaders believe in the value of relationships and successfully demonstrate appreciation. They truly understand that leading with compassion is more authentic.

Great leaders influence others which increases their achievement. They know their goal is to lead a successful organization; consequently, their top priority is to care for their most valuable asset — their employees. Emotionally intelligent leaders know how to do that. "What is Great Leadership" is a chapter in my book, The Power of Emotion.
Join my special guest Dr. Marie Bountrogianni, Independent Director, Board of Directors, Northland Power Inc., and me to discuss how emotional intelligence drives leadership success on Friday, April 15 at 6:30 pm.
---
Guest Introduction
Dr. Marie Bountrogianni, Independent Director, Board of Directors, Northland Power Inc.
Dr. Marie Bountrogianni is the former Dean of The G. Raymond Chang School of Continuing Education at Ryerson University in Toronto, Ontario. Prior to joining Ryerson, she was president and executive director of the Royal Ontario Museum's (ROM) Board of Governors.

As a former Ontario cabinet minister, Marie served as minister of several portfolios, including Intergovernmental Affairs, Democratic Renewal, Children and Youth Services, and Citizenship and Immigration. She authored and oversaw the Accessibility for Ontarians with Disabilities Act (AODA) from conception to royal assent, establishing Ontario as a world leader in inaccessibility.

Prior to entering politics, Marie was the chief psychologist for the Hamilton-Wentworth District School Board. Marie has taught at Ryerson University, Seneca College, McMaster University and was an Assistant Professor at Wilfrid Laurier University. She holds a doctorate in Applied Psychology from the University of Toronto and an honours undergraduate degree from the University of Waterloo.

Marie has served as a Director at Northland Power Inc. since 2009, where she is currently the Chair of the Governance Committee and serves on the Human Resources and Compensation Committee. Marie is also an advisory board member of Athens-based Eurobank's egg–enter•grow•goincubator. She was appointed as Chair of the Help Us Help Foundation (serving orphans and military veterans in Ukraine) in September of 2020. She holds the Institute of Corporate Directors designation (ICD.D).

Marie advises governments nationally and internationally on accessibility and other issues, including New Zealand, Ukraine, Greece, Korea, and Japan. In 2014, the Canadian Broadcasting Corporation (CBC) named Marie one of the top 10 most influential alumni at the University of Waterloo. In 2015, she was further recognized by Her Campus Waterloo as one of five influential women who have graduated from the University.
Connect with Dr. Marie Bountrogianni
www.northlandpower.com      @marie.bountrogianni.9     N/A
@mbountro  Dr. Marie Bountrogianni   
---
Watch Show Promo Here
---
ABOUT THE HOST
Linda Marshall, Author, Entrepreneur, Motivational Speaker, Television Host, Certified Emotional Intelligence Trainer, Coach, and thought leader in emotional intelligence, hosts Business Wellness in Hamilton on Cable 14 weekly. Linda invites special guests to discuss buzz-worthy topics and share strategies to strengthen business wellness during each episode.
---
< BACK TO ALL EPISODES  |  CONTACT US > 
---