The power of empathy plays a major role in reducing mental health stigma. Participating in Bell Let's Talk Day on January 30 will educate you and help you become more tolerant.
---
Bell Let's Talk Day is an annual initiative that raises funds for mental health and gets stronger each year. The goal is to encourage everyone to use the following 5 simple ways to end the mental health stigma and start a conversation about being more tolerant: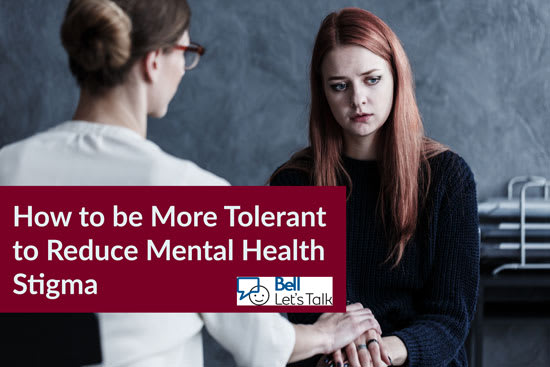 language matters
educate yourself
be kind
listen and ask
talk about it
Without a doubt, each of these recommendations will make a tremendous difference when it comes to mental health awareness. They allow us to enhance our interactions with others and become more tolerant. This will strengthen our empathy which is a strong component of emotional intelligence I believe one of the greatest attributes an individual can possess is empathy, an element that is key to building and maintaining effective relationships.
What is Empathy?
Empathy is having the capacity to recognize and understand others' feelings and opinions by figuratively walking in their shoes or seeing things through their eyes. As we develop empathy we become more tolerant, have more meaningful relationships, enjoy success in the workplace and appreciate improved well-being and quality of life.
Empathy can be learned and taught
Some of us are born with natural empathetic skills that we practice regularly; however, that certainly isn't the case with everyone. People often ask if empathy can be learned and if children and adults with autism spectrum conditions can be taught. The answer to both questions is yes!
Learning to accept others' differences
When consulting with teams and individuals, one of the major challenges that I find is a lack of tolerance - in particular, the inability to understand each other's perspectives and/or individual differences. If we can learn to place ourselves in someone else's shoes we strengthen our empathy skills which enhance mental health.
We're more alike, my friend, than we are unalike.
To reduce the stigma surrounding mental health and become more tolerant we need to understand that we are more alike than different. Take the time to listen to others to become more empathetic and compassionate. Don't be afraid to ask questions or start a conversation, however, be thoughtful of what you say and how you say it. These suggestions will not only educate you – they will increase your overall happiness.
---
More Motivational Reads Here »
---
Are you Emotionally Intelligent?
Sign up for Linda's monthly tips to build your Emotional Intelligence and reduce Emotional Hijacking!