On November 28, 2023, Canadians from coast to coast will come together for a day of generosity and goodwill as they celebrate Giving Tuesday Canada #GivingTuesdayCA. This annual event, which follows the frenzy of Black Friday and Cyber Monday, allows people to give back to their communities, support their favourite causes, and make a positive impact.
---
Join the Giving Tuesday Movement, in Canada!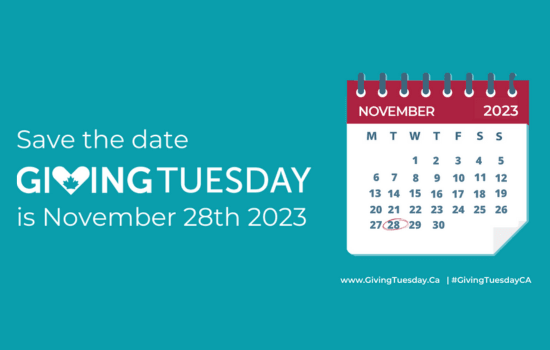 Giving Tuesday Canada is a reminder that borders or constraints do not bind generosity. It's a day when people from all walks of life can come together to create a better world. The impact of these collective acts of kindness extends far beyond the day itself, benefiting countless individuals and communities. 
In this blog, we'll explore the significance of Giving Tuesday Canada and how you can participate in this heartwarming day of giving.
The Essence of Giving Tuesday
Giving Tuesday often stylized as #GivingTuesday, is a global movement that originated in the United States in 2012. The idea behind this day is simple but powerful: it's a day dedicated to giving, whether through acts of kindness, donations, volunteering, or other forms of support for charitable causes. While Black Friday and Cyber Monday revolve around shopping for deals, Giving Tuesday is about the spirit of selflessness.
Why Giving Tuesday Matters in Canada
Giving Tuesday - #GivingTuesdayCA has gained tremendous momentum in Canada over the years. Canadians are known for their strong sense of community and generosity, making this day particularly important in fostering a culture of philanthropy. It's a chance for people to support local charities, non-profit organizations, and community projects that rely on the generosity of individuals and businesses.
The Impact of Joyful Giving
Marshall Connects Inc. understands the importance of reaching out, giving back to others and making a difference. We are proud supporters of Mohawk College and have witnessed the College's incredible impact on students' lives and our community.
On #GivingTuesday this year, Marshall Connects is donating $5000.00 to the students at Mohawk. Mohawk College students face tremendous financial pressures. To ensure these incredible young people achieve balance in all parts of their educational experience, the Mohawk College Foundation Gift Catalogue provides ways to help students through tuition support, food, rent, child care, or unexpected financial hardship.
How to Participate in Giving Tuesday Canada
Donate: One of the most direct ways to participate in Giving Tuesday is by donating to a cause or organization you care about. Whether it's a large or small contribution, every bit helps.
Volunteer: Giving your time and skills can be just as impactful as a financial donation. Consider volunteering at a local shelter, food bank, or community center.
Fundraising: You can start a fundraiser for a specific cause or charity. Use social media and online platforms to rally support from friends and family.
Spread the Word: Share the spirit of Giving Tuesday by using social media to raise awareness about the causes that matter to you. Use the hashtag #GivingTuesdayCA to join the conversation.
Support Local Businesses: Many local businesses participate in Giving Tuesday by donating a portion of their sales to charity. Choose to shop with these businesses on this day.
Random Acts of Kindness: Small acts of kindness can brighten someone's day. Buy a coffee for the person in line behind you or leave encouraging notes for strangers.
Organize a Drive: Host a collection drive for items like food, clothing, or toys and donate the collected items to a local shelter or charity.
Whether you donate, volunteer your time, or perform random acts of kindness, your actions will make a meaningful difference. As we approach this special day, let's remember that giving is not just about the funds you contribute but the positive change you inspire in the world.
On November 28, 2023, let's come together to celebrate Giving Tuesday Canada, a day that embodies the spirit of unity, kindness, and generosity. Mark your calendar and be ready to join the movement – let's make Giving Tuesday Canada 2023 an unforgettable day of giving and compassion.
---
This article was originally published on November 25, 2017, and has been updated (November 2023).
---
More Motivational Reads Here »
---
How Emotionally Intelligent Are You?
Sign up for monthly tips to build your Emotional Intelligence and reduce Emotional Hijacking!
---