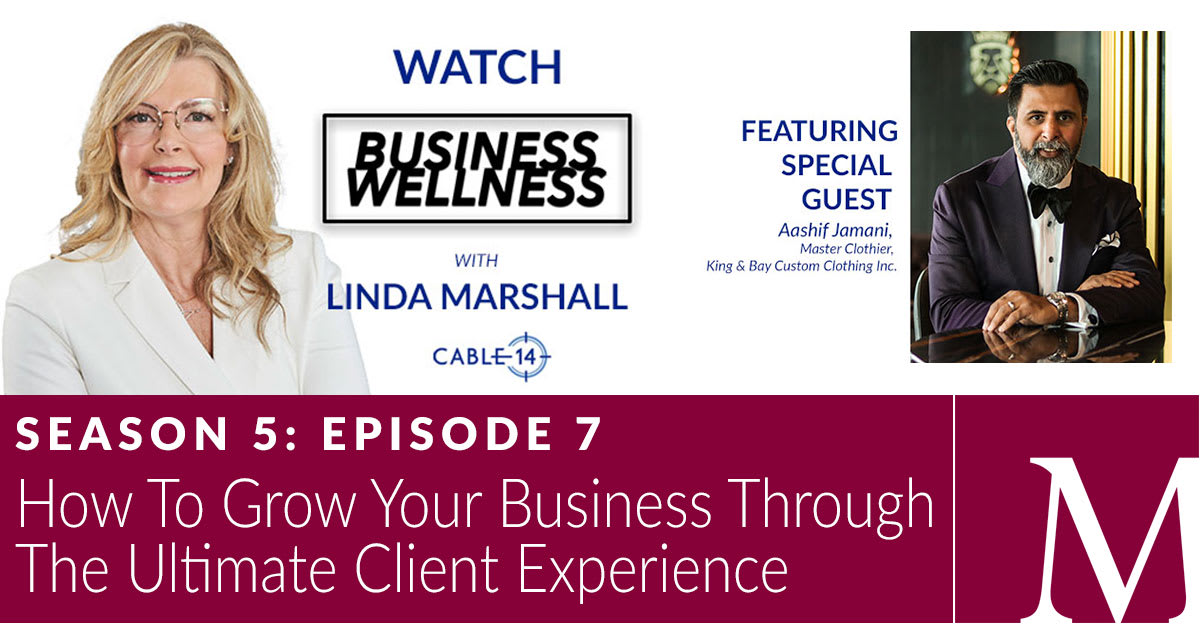 Host Linda Marshall invites her guest, Aashif Jamani to discuss how to grow your business through the ultimate client experience in Episode 7, Season 5 of Business Wellness in Hamilton. 
---
Business Wellness in Hamilton | Episode 7, Season 5
Relationship management is central to great and successful relationships. By tapping into three emotional intelligence competencies: Self-Awareness, Self-Management, and Social Awareness, relationship management skills can be advanced. Once individuals learn who they are and what makes them tick through these personal and social competencies, they thrive socially and develop strong and lasting relationships with others.

Businesses today rely on solid relationships with their clients and customers for a successful outcome. Therefore, building and maintaining secure relationship connections must be prioritized to develop and sustain the client and customer experience. Social awareness plays a critical role in meeting the needs of others.

Without question, emotional connections are very personal, powerful, and memorable. Client and customer relationships with businesses depend on how the company influences their emotions during their interactions and experiences. Yes, experiences are emotional. The bottom line - successful relationships are closely tied to how you make an individual feel. In my book, The Power of Emotion, a chapter is dedicated to this topic.
Join my special guest, Aashif Jamani, King & Bay Custom Clothing Inc., and me to discuss how to grow your business through the ultimate client experience on Friday, April 29 at 6:30 pm.
---
Guest Introduction
Aashif Jamani, Master Clothier, King & Bay Custom Clothing Inc.
Aashif Jamani is a Master Clothier and Kingsman at King & Bay Custom Clothing. His skill and expertise are from a history of five generations of diverse master tailors and craftsmen. Known as the 'Professor of Style,' his journey to becoming a Sartorialist began when he was a teenager. Since then, his passion for men's clothing and custom creation has grown immensely. Aashif finds joy in guiding his patrons through a creative exploration and design process to craft the perfect suit or garment.

King & Bay was born of the desire to provide men with a unique custom tailoring and clothing experience – one that was curated to individual expression, sophistication, and discovery of personal style.

Débuting in 2009 as a mobile service, the business continued to expand, transitioning into a modest space in downtown Toronto by 2012.

Evolving into a premium luxury brand, the desire to create a space that offered the quintessential setting for providing the 'royal treatment' to King & Bay clients was primal. In 2014, this became a reality with the opening of the exclusive King & Bay Lounge – Toronto's 'castle in the sky.' Located in the prestigious Brookfield Place, in the heart of Toronto's financial district, the Lounge is named for serving the 'Kings of Bay Street,' perfectly aligned with the namesake, King & Bay Custom Clothing.

King & Bay's mission is to inspire, educate, and elevate clients through an unparalleled curated experience, sartorial expertise, and an environment that celebrates refined sophistication.
Connect with Aashif Jamani at King & Bay Custom Clothing
www.mykingandbay.com      @mykingandbay    @mykingandbay
---
Watch Show Promo Here
---
ABOUT THE HOST
Linda Marshall, Author, Entrepreneur, Motivational Speaker, Television Host, Certified Emotional Intelligence Trainer, Coach, and thought leader in emotional intelligence, hosts Business Wellness in Hamilton on Cable 14 weekly. Linda invites special guests to discuss buzz-worthy topics and share strategies to strengthen business wellness during each episode.
---
< BACK TO ALL EPISODES  |  CONTACT US > 
---