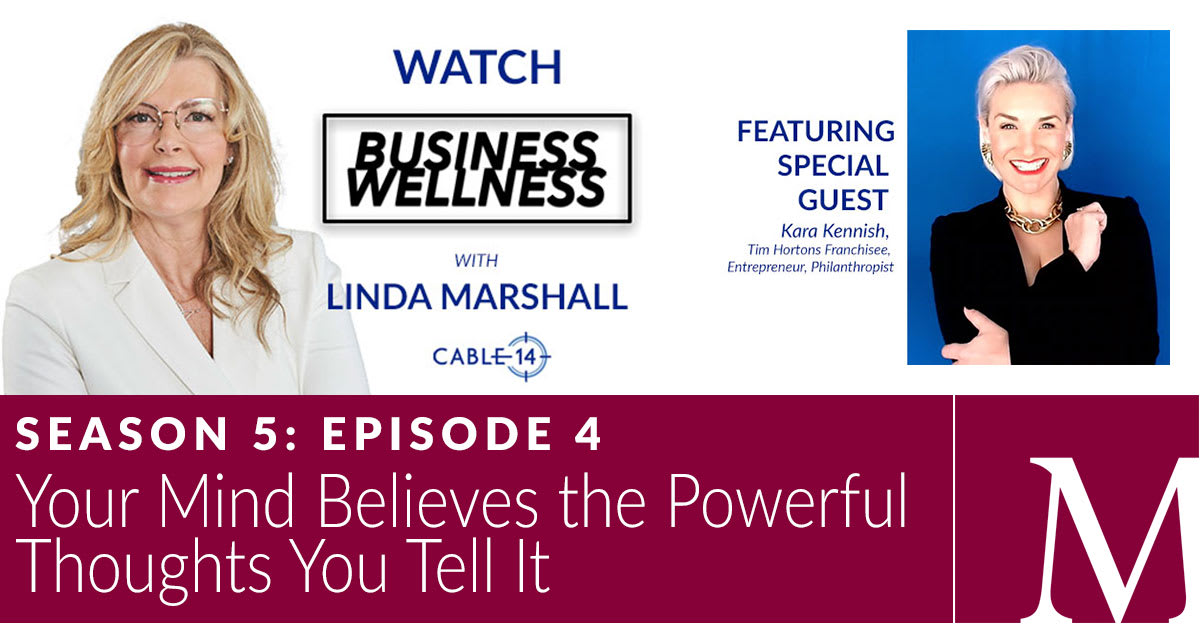 Host Linda Marshall invites her guest, Kara Kennish to discuss how your mind believes the powerful thoughts you tell it on Episode 4, Season 5 of Business Wellness in Hamilton. 
---
Business Wellness in Hamilton | Episode 4, Season 5
Have you considered how powerful your mind is? Your mind believes everything you tell it. Our subconscious mind receives what we say as factual. As we live and breathe, our brain continually processes everything it discovers. Many of us don't comprehend the real power of our thoughts and feelings.

Our environment plays a substantial role in both our positive and negative thoughts. Social influence from the media, community, peers, and family shapes our thoughts, feelings, and attitudes and may negatively impact us. When we are repeatedly exposed to the same falsehoods, our brains absorb them and perceive them to be true. This phenomenon is known as the "illusionary truth effect," which can be very harmful, especially if we don't take time to verify everything we see, hear, and read. The only way to combat this is to fact-check and question what we think we know and trust in our feelings, thoughts, and emotions. In my book, The power of empathy is a chapter in my book, The Power of Emotion, I share how our brain is like plastic. It's so encouraging to know we can retrain our brain through practice. We can become more emotionally intelligent and learn new habits or change our behaviour through practising emotional intelligence skills and strategies.
Join my special guest Kara Kennish, Tim Hortons Franchisee, and I for Your Mind Believes the Powerful Thoughts You Tell It on Friday, March 18 at 6:30 pm.
---
Guest Introduction
Kara Kennish, Tim Hortons Franchisee, Entrepreneur, Philanthropist
Kara is a third-generation Tim Hortons Franchisee. She passionately finds ways to utilize her platform for the good of her community by advancing the conversation of equal opportunity and shining a light on emerging needs in our community locally and internationally.

Kara is an ambassador for the Tim Hortons Foundation Camps (THFC). She leads annual fundraising efforts that afford children and youth from disadvantaged circumstances to experience a leadership development multi-year, camp-based program empowering them to change their stories for the better.

In 2020, Kara's restaurant joined forces with Empowerment Squared, and together we raised the second-highest Smile Cookie sales across Canada. They raised close to $70,000.00 in two years. Locally, E2 supports newcomer and marginalized youth accessing post-secondary education and starting their new lives in Canada. In Africa, they are building the Liberian Learning Center. This innovation hub will house the first public library in the entire country, aligning with the United Nations Sustainable Development Goals.

Kara has always been competitive, pushing her boundaries and those set by society. She played competitive hockey during her athletic career and attained four national medals in Judo. Honouring her athletic history, in 2020, Kara represented Tim Hortons in the 'Barbie Dream Gap' and 'One-of-a-kind Barbie' campaigns. She had the opportunity to share her hockey story with young women across Canada.

In 2021, She was celebrated as one of 100 Women of Inspiration in the Universal Womens Networks book; Women Drive Change and was awarded the UWN Woman of Inspiration for my leadership. Recently, Kara was nominated as a YWCA Woman of Distinction in Hamilton/Halton, Ontario, in the Business Leadership category.

In 2023, Kara committed to climbing Mt. Everest Base Camp to support the THFC fundraising efforts and prove to herself that the only limits exist are the ones she sets for herself. When Kara's not trying to change the world, she can be found battling for control over the music playlist with her teenage daughter, hiking with their two great white fluffs (Great Pyrenees) or running on a gorgeous trail.
Connect with Kara Kennish
 N/A      @kara.kennish    N/A  
---
Watch Show Promo Here
---
ABOUT THE HOST
Linda Marshall, Author, Entrepreneur, Motivational Speaker, Television Host, Certified Emotional Intelligence Trainer, Coach, and thought leader in emotional intelligence, hosts Business Wellness in Hamilton on Cable 14 weekly. Linda invites special guests to discuss buzz-worthy topics and share strategies to strengthen business wellness during each episode.
---
< BACK TO ALL EPISODES  |  CONTACT US > 
---