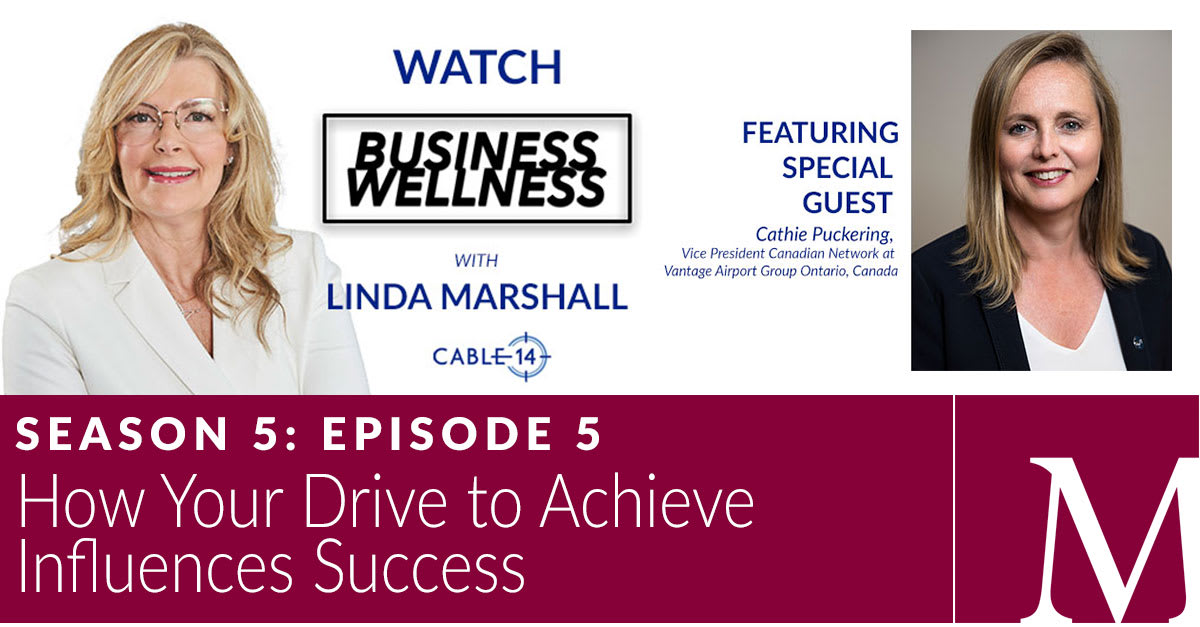 Host Linda Marshall invites her guest, Cathie Puckering to discuss how your drive to achieve influences success on Episode 5, Season 5 of Business Wellness in Hamilton. 
---
Business Wellness in Hamilton | Episode 5, Season 5
Have you ever wondered why some people are more successful than others? It might not surprise you that it can have a lot to do with their drive to achieve, and there's a strong correlation between success and achievement drive: one will often influence the other.

Individuals with a high achievement drive tend to have high values. Daily they strive for improvement and are continually raising the bar for themselves. When one's achievement drive is high, there is a strong desire to complete a task or project to the best of their ability, yearning for accomplishment, mastering skills and being in control. These personality traits are driven by intrinsic motivation–the persistent and constant concern with setting and meeting high achievement standards, which are essential factors on the road to success. In my book, The Power of Emotion, I devoted a chapter on how your drive to achieve influences success. Check it out, and you will realize that we can learn to increase our achievement drive. Yes, you can develop your journey to excellence by setting achievable goals and recording your accomplishments daily to track and measure your results. It's part of lifelong learning and having the personal desire to reach for what you truly want in life.
Join my special guest Cathie Puckering, Vice President and Head, Canadian Network at Vantage Airport Group Ontario, Canada, and me to discuss how your drive to achieve influences success on Friday, April 1 at 6:30 pm.
---
Guest Introduction
Cathie Puckering, Vice President and Head, Canadian Network at Vantage Airport Group Ontario, Canada
Cathie was born and raised in Hamilton, is a CPA, CGA and holds an Honours Bachelor of Commerce degree from Laurentian University. She joined John C. Munro Hamilton International Airport and TradePort in 1999.

As a seasoned airport executive, Cathie has held progressively senior roles at Hamilton International, most recently as President and Chief Executive Officer. Hamilton International is a hub for ultra low-cost passenger service and offers seasonal winter charter vacations. It is also Canada's largest dedicated cargo freighter express airport and is a major employer in Hamilton.

In 2021, Cathie was appointed to the role of Vice President and Head, Canadian Network for Vantage Airport Group. In her new role, She is overseeing and optimizing critical operational functions at each of Vantage's four Canadian airports, including Hamilton International, while leveraging her collaborative leadership style, industry expertise and established relationships.

Cathie has championed continuous improvements in the Airport's core passenger and cargo business. Under her leadership, Hamilton International's successful track record has translated into numerous economic benefits to the City, including significant job creation with 5,800 jobs directly in the Hamilton area, greatly enriching the lives of the local community.

Cathie was appointed as Honorary Colonel of 436 Air Mobility Squadron at 8 Wing Trenton in 2019 and is a proud supporter of Canada's military.

Cathie regularly volunteers her time and participates in events and programs uniquely linked to the City of Hamilton and the lives of its citizens. She proudly supports Liberty for Youth and CityKidz -two key organizations that strive to provide inspirational experiences, mentorship opportunities and support to high-risk children in Hamilton.
Connect with Cathie Puckering
www.flyhamilton.ca      @HamiltonInternationalAirport     @cathiepuckering
---
Watch Show Promo Here
---
ABOUT THE HOST
Linda Marshall, Author, Entrepreneur, Motivational Speaker, Television Host, Certified Emotional Intelligence Trainer, Coach, and thought leader in emotional intelligence, hosts Business Wellness in Hamilton on Cable 14 weekly. Linda invites special guests to discuss buzz-worthy topics and share strategies to strengthen business wellness during each episode.
---
< BACK TO ALL EPISODES  |  CONTACT US > 
---