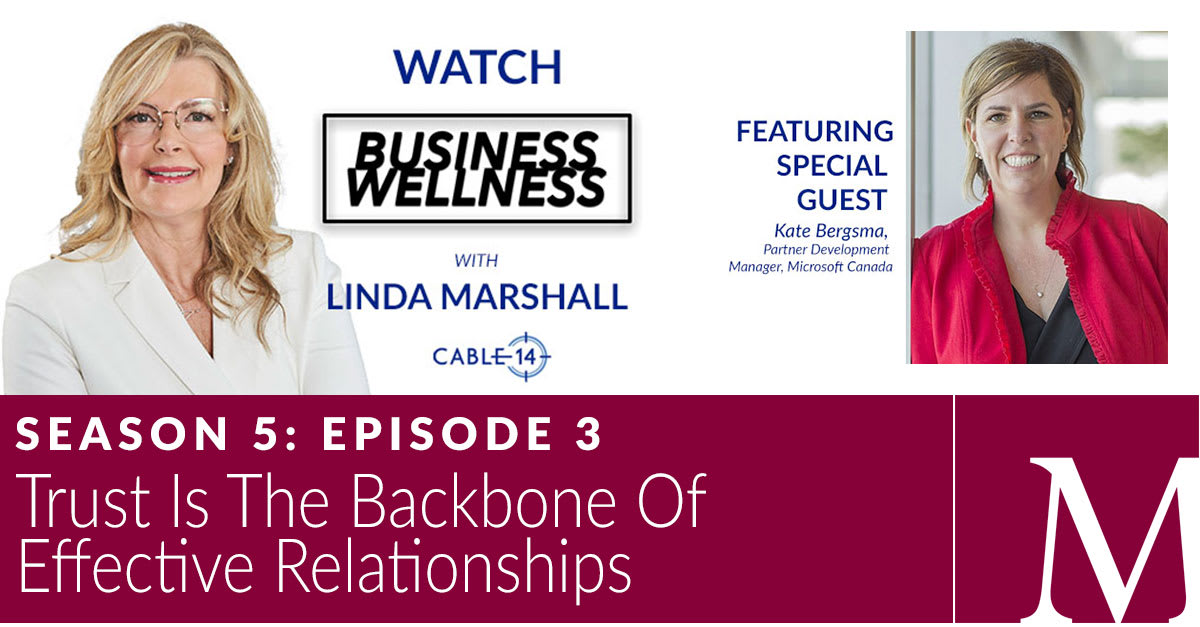 Host Linda Marshall invites her guest, Kate Bergsma to discuss how trust is the backbone of effective relationships on Episode 3, Season 5 of Business Wellness in Hamilton. 
---
Business Wellness in Hamilton | Episode 3, Season 5
How vulnerable are you with your team? Building trust is vital to developing and maintaining excellent relationships and is the foundation of high-functioning teams. The critical elements of trust include having confidence in someone, finding them reliable, and feeling safe, both emotionally and physically, with them. It requires a certain amount of vulnerability.
Trust is the backbone of any relationship; building it with those who play a role in your life is paramount to your achievements. This topic is a chapter in my book, The Power of Emotion.
Team members should work in a comfortable environment and not feel the need to protect themselves from one another. According to organizational health guru Patrick Lencioni, distrust can affect morale, staff retention and a team's overall productivity. He notes when team members are unable to develop trust, it leads to a great deal of wasted time and energy.

When building a trusting relationship, all parties must feel valued for their knowledge, skills, and abilities. Of course, communication is essential, as is respect and empathy. Trust is the glue that holds relationships together, especially when faced with challenges and setbacks.
Join my special guest Kate Bergsma, Partner Development Manager, Microsoft Canada, and me to discuss how trust is the backbone of effective relationships on Friday, March 4 at 6:30 pm..
---
Guest Introduction
Kate Bergsma, Partner Development Manager, Microsoft Canada
Kate is known for her passion, creativity, and dedication. She is a veteran Microsoft sales and marketing professional committed to the small and medium-sized business segment. In her role as Microsoft Canada's Partner Development Manager, she empowers Microsoft's national Indirect Provider partners and their channel of 1000s of resellers to grow their businesses by helping Canadians with technology solutions.
Over 25 years, Kate, an entrepreneur, has held diverse sales and marketing roles at Microsoft and at agencies. Along the way, she has earned several awards, including a Canadian Marketing Association Gold Award and an International Association of Microsoft Partners award.
Microsoft's mission is to empower every person and organization on the planet to achieve more. That includes small and medium-sized businesses, which they view as the unsung heroes of our economy—and crucial to Canada's success on the global market. The stakes are high, but they are committed to making a difference in the lives of real businesses every day.
Kate and her husband are parents of three active children and are involved in the community. She has sat as President of Volunteer Hamilton's board of directors, lecturer and judge at McMaster University's Business Case and other marketing competitions. She has a degree in Rhetoric and Professional Writing from the University of Waterloo.
Connect with Kate Bergsma
www.microsoft.com      @kate.bergsma.5    N/A  
---
Watch Show Promo Here
---
ABOUT THE HOST
Linda Marshall, Author, Entrepreneur, Motivational Speaker, Television Host, Certified Emotional Intelligence Trainer, Coach, and thought leader in emotional intelligence, hosts Business Wellness in Hamilton on Cable 14 weekly. Linda invites special guests to discuss buzz-worthy topics and share strategies to strengthen business wellness during each episode.
---
< BACK TO ALL EPISODES  |  CONTACT US > 
---