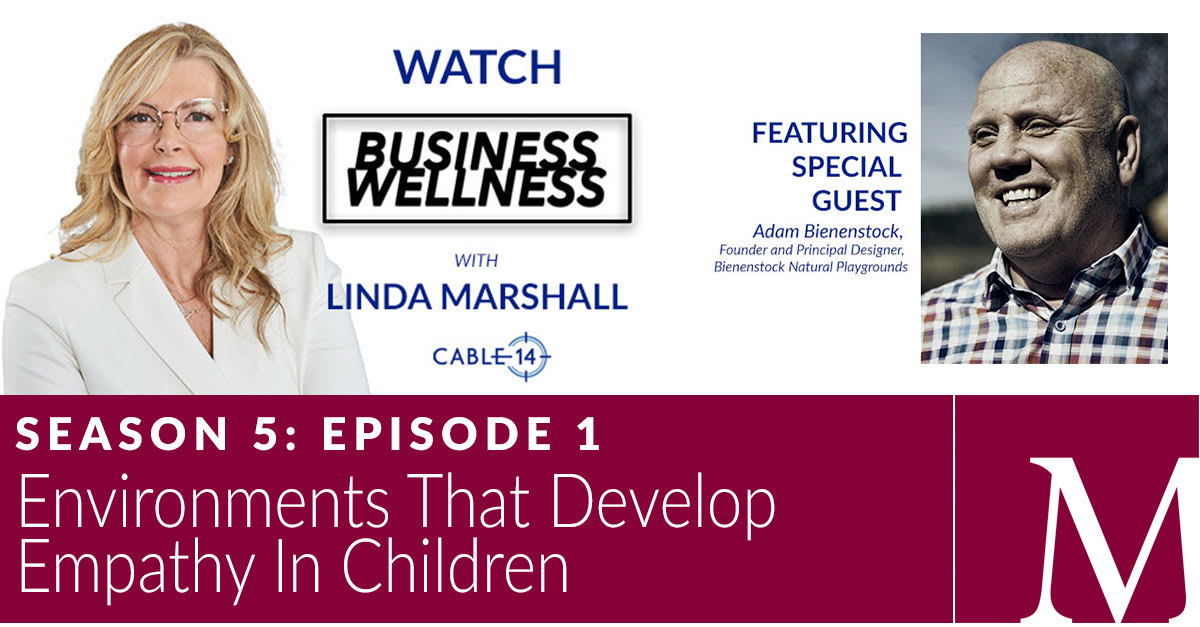 Host Linda Marshall invites her guest, Adam Bienenstock to discuss environments that develop empathy in children on Episode 1, Season 5 of Business Wellness in Hamilton. 
---
Business Wellness in Hamilton | Episode 1, Season 5
Without question, the pandemic has affected all of us in numerous ways, and perhaps to such a degree, it won't become evident for years to come, especially in the lives of children. Over the last two years, children have suffered by living through the pandemic in numerous ways. Their mental health, physical, intellectual, emotional and social skills have been severely impacted.
Providing an outdoor play environment has enormous benefits for young children's learning and development. Outdoor play is vital for young children's physical development and allows them to learn how to socialize with others, manage their feelings, and develop empathy. The power of empathy is a chapter in my book, The Power of Emotion.
Join my special guest Adam Bienenstock, Founder and Principal Designer at Bienenstock Natural Playgrounds Dundas, and me to discuss environments that develop empathy in children for the premiere show on Friday, February 4 at 6:30 pm.
---
Guest Introduction
Adam Bienenstock, Founder and Principal Designer at Bienenstock Natural Playgrounds 
Adam has travelled globally to advocate for children's rights to nature play and to design spectacular natural parks and playgrounds.
His resume in the natural playground industry is unparalleled; highlights include creating campuses for nature play in Jakarta following attacks by ISIS and redeveloping the baby panda exhibit for the Toronto Metro Zoo.
Adam lives and works at the forefront of the movement to connect children to nature. His bold, charismatic personality sets the tone for the entire company, and he's at his happiest when he's pushing executives, municipal managers, and educators out of their comfort zones.
He sits on numerous advisory committees, including the Canadian Standards Association Playground Safety Standard writing committee, Parliamentary Commission on Urban Conservation, and the Systematic Literature Review on Risky Outdoor Play. His work is accessible, natural, and fun.
Known for his wit and humour as a public speaker, Adam invites us to shed our inhibitions and play in the mud. He is the proud husband of Jill Bienenstock and the father of two sons, Sam and Leo. He sneaks off to northern Ontario when he needs to immerse himself in nature; he believes it's one of the most beautiful places on earth.
Connect with Bienenstock Natural Playgrounds
 www.bienenstockplaygrounds.com      @BienenstockPlaygrounds    @bienenstock  
@bienenstocknaturalplaygrounds  Bienenstock Natural Playgrounds   
---
Watch Show Promo Here
---
ABOUT THE HOST
Linda Marshall, Author, Entrepreneur, Motivational Speaker, Television Host, Certified Emotional Intelligence Trainer, Coach, and thought leader in emotional intelligence, hosts Business Wellness in Hamilton on Cable 14 weekly. Linda invites special guests to discuss buzz-worthy topics and share strategies to strengthen business wellness during each episode.
---
< BACK TO ALL EPISODES  |  CONTACT US > 
---