Enhance happiness and become more mindful while baking during COVID-19. Try Rosanna's Apple Cinnamon Cake recipe today!
---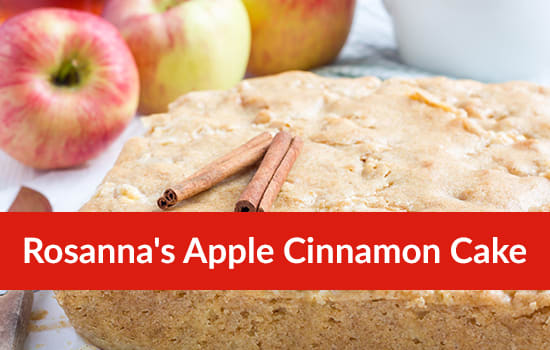 Recipe Submitted By Rosanna Penilla-Bharucha
CAKE INGREDIENTS
2 1/4 cups All-Purpose Flour
1 TBSP baking powder
1/4 TSP salt
3 large eggs (room temperature)
1-1/2 cups of milk or buttermilk or water 
6 TBSP oil (canola or any vegetable oil)
1-1/2 cups of white or brown sugar or mix white and brown
1/2 TBSP vanilla extract 
1 TSP cinnamon
1/2 TSP nutmeg
1 large apple (sliced thinly like wedges)
Optional: Mix and add crumble to the top of the cake
1/2 cup butter 
1 cup of flour
1/2 cup brown sugar
1 TSP ground cinnamon
Simple steps:
Combine flour, baking powder, salt, cinnamon, nutmeg in a bowl
Preheat oven to 350 degrees F 
In a separate bowl, add 3 eggs, milk or water, oil, sugar, and whisk. Add vanilla extract, whisk until smooth 
Pour over egg mixture to flour mixture. Mix well until smooth. Transfer to a greased baking pan. Add the apples (arrange as you like). 
Bake in the preheated oven until the center is almost set, 50 minutes to an hour. Check the center with a toothpick; it's coked when dry. Return to the oven if the toothpick is wet. The loaf looks golden brown, and the smell is in the air. Cool on a wire rack for 10 minutes. Carefully run a knife around edge of pan to loosen. 
Apple cake crumble topping - mix the ingredients gently with your hands to form crumbles, they should not be fine but looks more like in clusters. Add on the top of the apple.
PREP TIME: 30 MINUTES
COOK TIME: 50 MINUTES TO 1 HR 
BAKED AT 350 F
To help you deal with COVID-19, we've provided ways to cope and thrive with baking! With a combination of emotional intelligence, mindfulness, and baking – we have the perfect recipe - check out simple recipes you can try!
---
Submit Your Recipe Here »     More COVID-19 Reads + Recipes Here »
---
Are you Emotionally Intelligent?
Sign up for Linda's monthly tips to build your Emotional Intelligence and reduce Emotional Hijacking!
---