Enhance happiness and become more mindful while baking during COVID-19. Try Kevin's Grandma's Coffee Cake recipe today!
---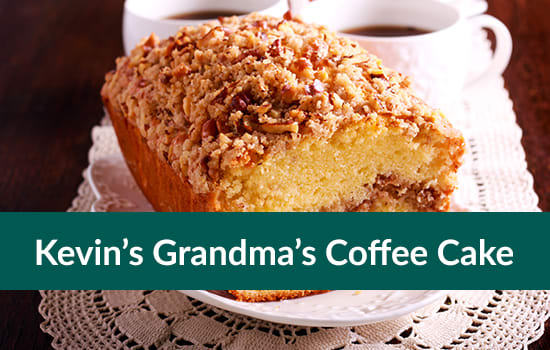 Recipe Submitted By Debbie Hall Mitchell
CAKE INGREDIENTS
2 cups white sugar 
1 cup butter
4 eggs
2 cups all-purpose flour
1 tsp. vanilla
1 tsp. baking powder
1 cup sour cream
CAKE TOPPING
¼ cup walnuts
1 tbsp. cinnamon
¼ cup brown sugar
Simple steps:
 Heat oven at 350 degrees. 
Grease and flour a need a springform bundt type pan, to unwrap the cake.
Cream sugar and butter. You can use a hand or stand mixer. 
Add eggs and vanilla and beat together. 
Add flour, baking powder – fold with a spatula until mixed.
Add sour cream – ensure it is blended well with the mixture.
TOPPING
Mix these ingredients and sprinkle on top of batter.
Bake for 60-70 minutes, depending on the oven, and a bit it longer if baking two.
To help you deal with COVID-19, we've provided ways to cope and thrive with baking! With a combination of emotional intelligence, mindfulness, and baking – we have the perfect recipe - check out simple recipes you can try!
---
Submit Your Recipe Here »     More COVID-19 Reads + Recipes Here »
---
Are you Emotionally Intelligent?
Sign up for Linda's monthly tips to build your Emotional Intelligence and reduce Emotional Hijacking!
---