, Enhance happiness and become more mindful while baking during COVID-19. Try Chris's Sugared Almonds recipe today!
---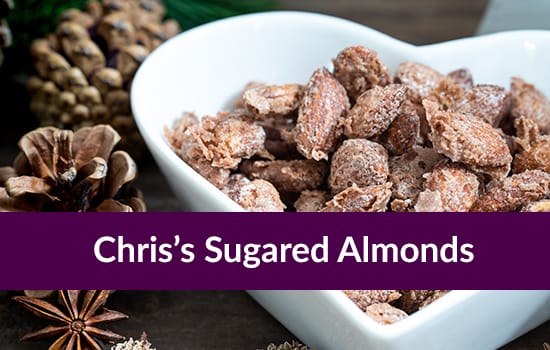 Recipe Submitted By Chris Sohar
INGREDIENTS
2 cups whole almonds with skin
¼ cup of sugar 
½ tsp. salt 
2 tbsp. honey 
2 tsp. Almond or Vegetable oil
Simple steps:
Bake almonds at 350 until lightly brown.
Turn every 5 minutes for 12-15 minutes. 
Mix sugar and salt in a separate bowl.
Melt honey and oil in a medium-size pot. 
Add almonds.
Cook until the liquid is absorbed while stirring continuously (5 min.).
Add the almonds to the bowl of salt and sugar mixture. Coat the almonds with the mixture. Lay the almonds on a wax paper until they are dry.
Store in a glass container.
To help you deal with COVID-19, we've provided ways to cope and thrive with baking! With a combination of emotional intelligence, mindfulness, and baking – we have the perfect recipe - check out simple recipes you can try!
---
Submit Your Recipe Here »     More COVID-19 Reads + Recipes Here »
---
Are you Emotionally Intelligent?
Sign up for Linda's monthly tips to build your Emotional Intelligence and reduce Emotional Hijacking!
---