Enhance happiness and become more mindful while baking during COVID-19. Try Linda's Sweet Potato Turkey Tacos recipe today!
---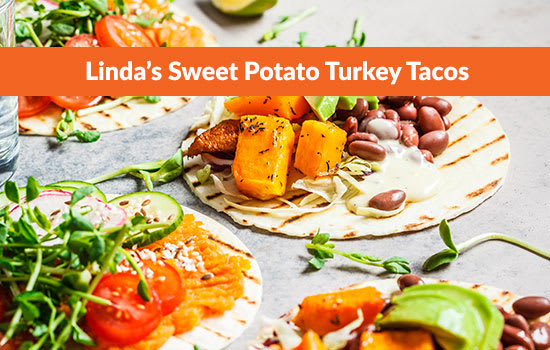 TACO INGREDIENTS
2 medium sweet potatoes
1 teaspoon olive oil
1 1/4 teaspoons ground cumin divided
1/4  + 1/8 teaspoon salt
1/4 + 1/8 teaspoon ground pepper
3/4 pound lean (93%) ground turkey
5 garlic cloves minced
1 teaspoon chilli powder
1/2 teaspoon dried oregano
1/2 teaspoon paprika
1 1/4 cup canned crushed tomatoes
1/4 cup grated pepper Jack cheese
2 tablespoons minced parsley
Simple steps:
Pierce the sweet potatoes all over with a fork. Cook in the microwave on HIGH until tender when pierced with a fork, 4 to 5 minutes per side. You can also cook them the night before in a crockpot. Let the potatoes rest until cool enough to handle.
Cut the potatoes in half lengthwise. Carefully scoop the flesh out of the potatoes and place in a medium-sized bowl.
Reserve the skins or the Taco shells. Mash the potato flesh until most lumps are gone. Stir in the olive oil, ½ teaspoon cumin, ¼ teaspoon salt and ¼ teaspoon pepper. Divide the mashed sweet potato evenly between the potato skins (taco shells). Place the turkey taco shells on a baking sheet.
Heat a large nonstick skillet over medium-high heat. Lightly coat with cooking spray. Add the ground turkey and cook, breaking it up until cooked. Stir in the garlic, chilli powder, remaining ¾ teaspoon cumin, oregano, paprika, and remaining ⅛ teaspoon salt and pepper—Cook for 1 minute.
Stir in the crushed tomatoes.
Preheat the broiler. Spoon the turkey mixture into each sweet potato skin taco shells. Then top each one with 1 tablespoon grated cheese. Broil until the cheese melts, about 30 seconds. Garnish with parsley.
Serve.
To help you deal with COVID-19, we've provided ways to cope and thrive with baking! With a combination of emotional intelligence, mindfulness, and baking – we have the perfect recipe - check out simple recipes you can try!
---
Submit Your Recipe Here »     More COVID-19 Reads + Recipes Here »
---
Are you Emotionally Intelligent?
Sign up for Linda's monthly tips to build your Emotional Intelligence and reduce Emotional Hijacking!
---